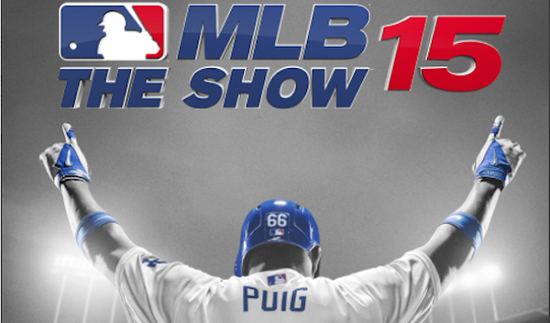 SCEA today released the full fact sheet for MLB 15: The Show. The game is now just two months from its March 31 release so this represents a significant amount of information to have already. It allows the company to expand on and showcase features and improvements in the coming weeks rather than "revealing" them each step of the way.
The fact sheet includes more details on previously announced features and various improvements for the game. That includes licensed equipment, save migration, legends, graphical improvements, and Diamond Dynasty changes.
There's a ton to get excited about yet those hoping for a new commentary team, innovation within Road to the Show, or anything online-related may come away disappointed. Continue on to check out all the features and leave your thoughts in the comments!
Gameplay Improvements (PS4 & PS3 Only)
♦Advanced AI logic results in outfielders taking more realistic routes to the ball
♦Upgraded motion system allows for dynamic speed matching from run to catch to throw
♦User controlled cut offs
♦All new slide and tag system
♦New speed paradigm for fielders and base runners
♦Enhanced ball physics for pop ups, fly balls, and shots into the gap
♦Dynamic pitch breaks: Allows for more realistic pitch recognition when batting
♦Simplified Analog swing controls
♦Dynamic Difficulty 2.0
♦New situational base covering intelligence allows for new animations to play when a player has time or is in a hurry to get to his base.
♦More than 70 new situational third out fielding animations
♦New Input Type option for hitting
♦We've separated swing input as a separate option
Year-to-Year Saves (PS4, PS3, VITA)
Users who purchased MLB 14 The Show will be able to continue their Franchise and Road to the Show progress in MLB 15 The Show with the Year-to-Year Saves feature. Saves between the two releases will be forward-compatible, meaning you don't have to worry about starting your Franchise or Road to The Show seasons over!
Licensed Equipment (PS4 & PS3 Only)
For the first time ever MLB The Show will include licensed equipment from some of the most recognizable brands in baseball. Earn as you play to enhance your RTTS or Diamond Dynasty players and partner with iconic brands by bringing sponsorships to your Franchise team! (Equipment on PS3 version is not seen during gameplay).
Universal Rewards (PS4 & PS3 Only)
In the last couple years we added the Universal Profile, which tracks your playstyle tendencies and passively rewards you with XP and Stubs while you play. This year, in addition to XP and Stubs, you will earn new Items usable throughout different game modes:
♦Virtual Baseball cards to be collected and easily assembled into a competitive Diamond Dynasty team
♦Licensed Bats, Gloves, Batting Gloves, and Cleats that enhance your Road to the Show or Diamond Dynasty player's ability
♦Brand Sponsorships for your Franchise team that spice up your in-game interface and earn your team some extra income
♦Collect entire teams to unlock iconic MLB alumni players from each MLB team
Graphical Improvements (PS4 Only)
♦Real-time seasonal sun and shadows
♦Player Skin tone realism. More variations of skin tones with gloss and specular improvements
♦Revamped Night lighting
♦More accurate and photorealistic rendering system
♦PS4 gets 10 more Minor League stadiums
Directional Hitting Interface (PS3, PS4, VITA)
Featured for the first time in MLB 15 The Show is the new Directional Hitting interface, which allows you to influence the direction of your hits in real-time while you swing. Using the L-Stick, you can attempt to influence fly balls, ground balls, pushed hits, pulled hits, or any of those in combination. The most success will be had by swinging at pitches that are conducive to the hit direction you are aiming for. Outside pitches are better for hitting to the opposite field, while inside pitches are best for pulling. If no direction is pressed with the L-Stick, it's just like using the old Timing Hitting interface. Like never before, Directional Hitting allows you to play into each hitter's strengths and utilize the strategies of proper situational hitting.
Franchise Mode Refresh (PS4, PS3, VITA)
With the addition of General Manager Contracts, you now have to consider Ownership Expectations when running your team, and your performance will determine the job offers that come your way. Building a championship-caliber team is more fun and dynamic than ever before, with the new Performance-based Player Progression, as well as much improved Trade and Contract logic. Partner up with Brand Sponsors, giving your broadcast elements an official sponsor and earn some extra dough to spend on your team.
Players and teams get Personality: Aesthetics and Emotion (PS4 & PS3 Only)
Players on the field get improvements to show their individuality. (Necklaces, Tilted caps, etc..) Real-time situational/emotional AI scenes (dugouts, crowd, etc..) have also been added, and more Team and Player celebrations.
"Inside The Show" News Suite (PS4, partial PS3)
Franchise, RTTS, and Season modes all feature a new suite of features centered on providing news updates from around the league. Inside The Show is a new radio broadcast that will be heard at the beginning of each new day and will discuss recent scores, notable performances, team news, milestones, records, standings, and more.
Diamond Dynasty Distilled (PS4 & PS3 Only)
Diamond Dynasty is melted down to its core. Now driven by just a handful of systems, it is much more accessible and less daunting to manage. Driven heavily by a new collection based management system, everyone is building a Diamond Dynasty team just by playing any mode in MLB The Show.
New Slide Step System (PS4 & PS3 Only)
Perform a slide step while pitching to combat pitchers with a slow delivery to the plate, or runners who consistently get great jumps. This "game within a game" creates a risk/reward factor when performing a slide step. The pitcher will now have less control and slightly less velocity when a slide step is executed, but will be quicker to the plate. As a runner, you now have to worry about your opponent using a slide step when you are attempting a steal.
Legends (PS4, PS3, VITA)
We partnered with the MLB Player's Alumni Association to make a total of 30 Legends playable in MLB 15 The Show. Collect an entire MLB team, and you'll unlock an iconic alumni player from that team. There's one from each team, and though you'll have to find or unlock the card to slot them into your Dynasty squad, you can simply opt in to utilizing the whole pool of Legends in your Franchise mode
Presentation Improvements (PS4)
♦Dynamic stat based presentations
♦Split screen functionality
♦Real-time situational/emotional AI scenes (dugouts, crowd, etc.)
♦All-new Jumbotron movies
♦More Team and Player celebrations
Play-by-Play, Commentary, and PA Improvements (PS3 & PS4 Only)
♦Improved strike zone accuracy with new pitch locations for on-the-black calls and borderline balls & strikes
♦Improved hit call accuracy through new field zone locations and deeper parameter logic
♦Improved runner rounding base and runner scoring content for more exciting big-play calls
♦Improved deep fly ball logic that allows more diverse calls on potential home runs, and prevents the user from hearing calls that give away the play result before it occurs
♦Improved foul ball logic to allow for open-ended play-by-play on playable or nearly playable balls, prevents user from hearing calls that give away the result
♦New batter introductions and pitch result content for the new skip batter walkup system (speeds up gameplay, tightens play-by-play)
♦New system for handling safe calls includes proper acknowledgement of runner's slide type
♦New conversations with color commentary that remember and discuss the team's recent record
♦New conversations with color commentary that highlight the impact of important double plays
♦New PA batter introductions and content for the new Home Run Derby format
♦New batter introductions call out three part stat line for Avg, HRs, and RBIs on the year
♦New create-a-player first and last names
♦New play by play and color commentary content for the manager challenge system
♦Over 1,700 new lines of play-by-play content
♦Over 1,400 new lines of color commentary
Instant Replay Challenge System (PS4 & PS3 Only)
The MLB's Instant Replay protocols are now in The Show. Certain plays give users an opportunity to challenge the outcome of a close play.
New Home Run Derby Format (PS4, partial PS3)
Aligning Major League Baseball's new Home Run Derby rules and progression
MLB 15 The Show included 31 more enhancements, new features and improvements!
1. More than 90 new personal batting stances
2. More than 120 batting stance re-captures
3. More than 50 new personal pitching motions
4. More than 120 pitching motion re-captures
5. More than 45 new signature HR swings
6. More than 900 new presentation animations
7. More than 700 new gameplay animations
8. Editable Contracts (Franchise mode)
9. Player contract interest improved (based on MLB service time) (Franchise mode)
10. Player salary guide (Franchise mode)
11. GM History records (Franchise mode)
12. Trade Finder (Franchise mode)
13. Vastly improved trade logic (Franchise mode)
14. New crowd placement logic to reduce fans sitting in "cheap" seats
15. New Quick Shifts feature and revamped Defensive Positioning screen
16. Quick Counts balancing (I.E. less 3-2 counts, pitchers start w/ 1-1 counts, etc.)
17. Four new brands for Fielding Gloves. Each brand has three different styles.
18. Four new brands for Bats. Each brand has three different styles.
19. Four new brands for Batting Gloves.
20. Three new brands for Cleats. Each brand has three different styles.
21. Updated shin guard, new "Without foot guard" option added.
22. Updated batting helmet with no flaps to pay homage to Old Time players. (PS4 Only)
23. New Necklace accessory with Thin or Thick as options. (PS4 Only)
24. Wrist tape now been separated into left and right wrists with new "Long" option added.
25. New "Extra Wide" wristband AND armband option added. (PS4 Only)
26. New Base runner Wrist Guard accessory added. (PS4 Only)
27. New "Stirrup Low" Pant Style option added. (PS4 Only)
28. Japanese and slap-hitter swing types now selectable (PS4 Only)
29. Left analog stick bunting influence
30. Hours of new custom stadium and ambiance music (over 40 new tracks)
31. RTTS camera improvements after the ball is in play