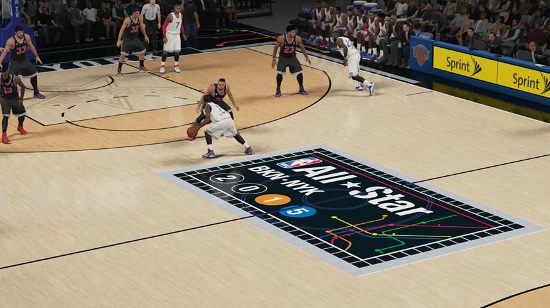 With the complete rosters for the 2015 NBA All-Star Game having been officially announced earlier this week 2K Sports has now released an update for NBA 2K15 that reflects them. Not only are the Western Conference and Eastern Conference All-Star rosters accurate but the new jerseys and the court have been added to the game.
For the West DeMarcus Cousins has been inserted due to the injury to Kobe Bryant while Dwyane Wade might need to be replaced on the East squad. Should his spot be filled another update will bring in the new player (likely to be Brandon Knight or Kyle Korver).
This year's All-Star uniforms have a fairly simple look to them with the West wearing black while the East wears white. The back of the jerseys though are unique in that they feature the both the first and last names of the players.
Unfortunately the first names are not placed on the jerseys in NBA 2K15. The Christmas jerseys had all sorts of problems and were never fixed so it seems there must be some sort of limitation preventing 2K from depicting them properly.