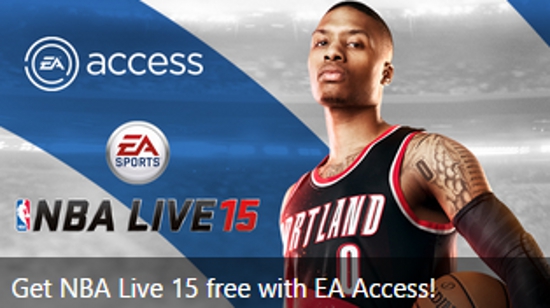 In December EA Sports UFC was added to the Vault within the EA Access subscription service. Based on an image hosted on Xbox.com advertising "featured games" it looks as though NBA Live 15 will be next.
EA Access is the subscription service that is currently exclusive to Xbox One as Sony opted not to allow it for the PS4. It's $30 for a full year or $5 month-to-month. Members get unlimited access to the Vault which contains older EA games. Right now that includes 2013's slate of sports titles, Need for Speed Rivals, PvZ Garden Warfare, Battlefield 4, Peggle 2, and the most recently added UFC. Also there's 10% savings on all digital purchases and five days of limited (six hours) early play before each EA game releases.
Despite what the image states NBA Live 15 is not yet available for free through EA Access. Past games have been added on Thursdays, so February 19 might be the date it appears.
This is a smart move by EA to get Live some exposure. Though they could have benefited more by adding it earlier considering it wasn't selling even at dramatically discounted prices, by getting it in around the All-Star break there's still significant relevance to the product. With the future of the series very much in question getting anyone new on board and potentially interested in another edition, whether that be as a traditional game or something more experimental, acts as a win for the company.