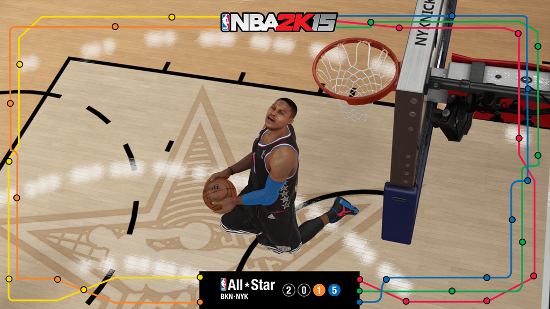 Though the frequency has fallen off since early in the season 2K Sports has done an admirable job with roster updates and ratings adjustments in NBA 2K15. A huge weakness of the series in past years has been eliminated due to the dedication to keep the game up-to-date and not just in terms of ratings but transactions, rotations, and accessories.
There are some issues to consider with the process behind the ratings changes and analysis on that, and the biggest movers this season, will go up later this week. Check out all the ratings changes that have been made since the last collection was posted in late January by viewing the spreadsheet here.
Notables on the rise include LeBron James (+1 to 97), LaMarcus Aldridge (+1 to 90), Klay Thompson (+2 to 89), Kyrie Irving (+2 to 88), DeAndre Jordan (+2 to 85), Brandon Knight (+2 to 84), Jared Dudley (+3 to 79), and Hassan Whiteside (+2 to 79).
Among those falling are Kevin Durant (-1 to 95), Anthony Davis (-1 to 94), Kevin Love (-3 to 83), Rajon Rondo (-2 to 83), and Larry Sanders (-2 to 77).