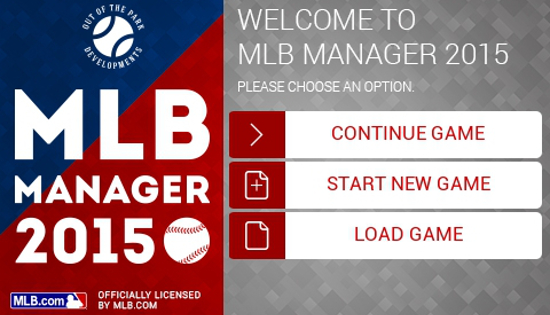 With the acquisition of the MLB.com license Out of the Park Developments has taken the opportunity to rebrand the mobile version of OOTP Baseball, which has released as iOOTP since 2011, as MLB Manager. Releasing in March (most likely near the end of the month) MLB Manager 2015 will be available for both iOS and Android devices. This will be the first time the game will go out on Android. 
In addition to the features for MLB Manager 2015 the company announced that iOOTP Baseball 2014 (last year's edition) can now be had for free. Grab it through iTunes in preparation for the upcoming game! Here are the announced features and improvements for the mobile sim management game which is expected to be $5 to buy.
Officially Licensed By MLB.com
Yes, like Out of the Park Baseball 16, MLB Manager 2015 will feature authentic league and team logos for all Major League Baseball teams, including historical ones!
Real 2015 Major League Baseball 40-Man Rosters
Each team will have its actual 40-man projected Opening Day roster, along with an additional 20-25 top prospects, for a total of 60-65 players. As in previous versions of the game, your prospects will remain on a minor league roster until they're ready to be promoted to the majors.
Android Support
Yes, that's right: MLB Manager 2015 will be available on iOS and Android for the first time! Look for it in the Apple App Store and the Google Play Store when it's released next month. (The exact date is TBA, but if you're on social media, be sure to follow us on Twitter and like us on Facebook for the latest news.)
Shop a Player
As in OOTP, you'll now be able to shop a player around and field offers from other GMs. When you see an offer you like, you can begin trade negotiations and add more players to both sides.
Simulate to Date
Now you'll be able to simulate ahead to a specific date, instead of just a day or a week at a time. And a new Don't Disturb feature will let you do uninterrupted long-term simulations and watch your league history grow.
Player Shortlist
See a player whose career you want to keep track? Add him to your shortlist so you can quickly see his profile any time. That's particularly useful when you trade a player and want to see how his career unfolds. (Hopefully with as few regrets as possible.)
Career Stats Leader Boards
Every player with 10 years or more of experience is eligible for inclusion in the new leader boards for career stats. Now you can follow the races for new career home run and strikeout kings, as well as the leaders in many other stats.
Improved In-Game Subs
Many of you asked for this, so we're happy to say that when you make a substitution during a game, you will now see the current game situation, as well as the selected player so you don't accidentally remove the wrong player. This will be handy when playing ahead in the game.
Better Trading AI
You'll receive more offers when you put a player on the trading block, as well as better offers when shopping a player around.