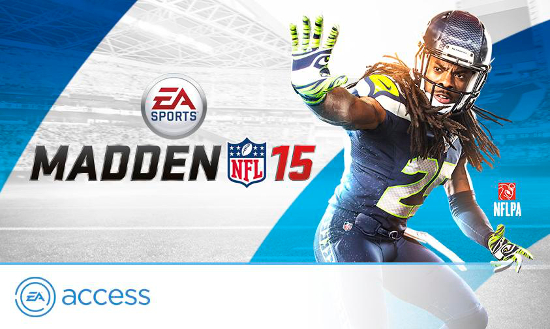 The latest addition to the EA Access "Vault" on Xbox One is Madden NFL 15. Today the game joined NBA Live 15 and EA Sports UFC as the most recent sports titles to be offered as part of the subscription service.
The EA Access service is currently exclusive to Xbox One as Sony opted not to allow it for the PS4 claiming, of all things, "lack of value" for consumers. It's $30 for a full year or $5 month-to-month. Members get unlimited access to the Vault which contains older EA games. Right now that includes 2013's slate of sports titles, Need for Speed Rivals, PvZ Garden Warfare, Battlefield 4, Peggle 2, EA Sports UFC, and NBA Live 15. Also there's 10% savings on all digital purchases and five days of limited (six hours) early play before each EA game releases.
It'll be interesting to see if this becomes the norm with EA Sports games making their way into the Vault shortly after their respective seasons conclude. If that's the case FIFA 15 could be coming in June with NHL 15 to follow in July.
In the case of Madden sales plummet after the Super Bowl so sending the game to the Vault is an interesting long-term strategy. Consumers interested in buying it already have, so EA can get others in on the game now not just to play and possibly increase the likelihood of buying the next edition in the series, but find themselves investing into Ultimate Team mode where EA can make digital revenue they would not have otherwise.