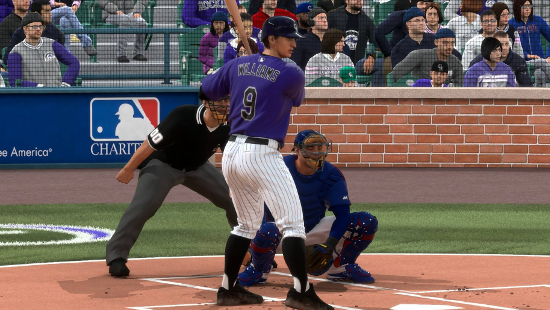 Though the addition of "legends" didn't really resonate with the community for MLB 15: The Show their presence in the game is at the very least worth exploring. The 30 players, one representing each franchise, are available for use in Diamond Dynasty and Franchise modes. 
To obtain any legends for your Diamond Dynasty team they have to be found in packs of cards, granted as a Universal Rewards bonus, purchased in the card marketplace with Stubs, or earned by completing a team's "Collection" in the mode. In Franchise they can simply turned "On" as an option when starting it up and the 30 players will be available as free agents. They can also be added to the pool of players for a Fantasy Draft when beginning a new Franchise.
As free agents in Franchise mode there's a big challenge to adding them to your roster. Every team, no matter the size of their budget and their current payroll, is only given $10 million and some change to work with at the start. Since almost all of the legends want huge contracts it won't be possible to sign them immediately unless dramatic action is taken.
One way to do that is to decimate your roster – which I did with the Rockies here to get Ted Williams. I was forced to release all of the good players on the team…which obviously isn't a great strategy for winning in the mode. The other option is to spend money. You can buy Stubs and put them towards increasing your team's budget.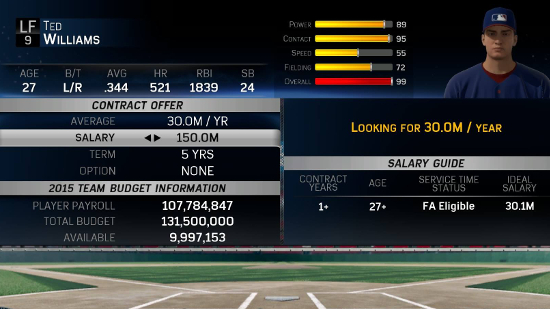 Ted Williams: 99 Overall, Age 27, Seeking $30M Per Year
Power 90, Contact 96, Speed 56, Fielding 73
Mike Schmidt: 99 Overall, Age 30, Seeking $30M Per Year
Power 97, Contact 65, Speed 67, Fielding 95
Ralph Kiner: 98 Overall, Age 26, Seeking $30M Per Year
Power 97, Contact 72, Speed 58, Fielding 74
Jeff Bagwell: 98 Overall, Age 26, Seeking $30M Per Year
Power 93, Contact 81, Speed 58, Fielding 72
Nolan Ryan: 98 Overall, Age 30, Seeking $30M Per Year
Stamina 94, H/9 90, K/9 99, BB/9 46
Al Kaline: 97 Overall, Age 28, Seeking $30M Per Year
Power 69, Contact 82, Speed 62, Fielding 97
Johnny Bench: 97 Overall, Age 22, Seeking $30M Per Year
Power 80, Contact 64, Speed 60, Fielding 92
Tom Seaver: Overall 97, Age 24, Seeking $30M Per Year
Stamina 94, H/9 80, K/9 83, BB/9 73
Dave Winfield: Overall 96, Age 27, Seeking $30M Per Year
Power 72, Contact 72, Speed 73, Fielding 92
Dennis Eckersley: Overall 96, Age 33, Seeking $10.1M Per Year
Stamina 28, H/9 90, K/9 87, BB/9 99
Yogi Berra: Overall 95, Age 29, Seeking $30M Per Year
Power 73, Contact 72, Speed 58, Fielding 83
Andre Dawson: Overall 94, Age 28, Seeking $30M Per Year
Power 78, Contact 71, Speed 71, Fielding 89
George Brett: Overall 94, Age 27, Seeking $30M Per Year
Power 69, Contact 89, Speed 60, Fielding 84
Edgar Martinez: Overall 93, Age 32, Seeking $22.5M Per Year
Power 79, Contact 92, Speed 39, Fielding 51
Ernie Banks: Overall 93, Age 27, Seeking $30M Per Year
Power 87, Contact 68, Speed 60, Fielding 83
Rod Carew: Overall 93, Age 31, Seeking $26M Per Year
Power 34, Contact 96, Speed 84, Fielding 79
Fred McGriff: Overall 92, Age 34, Seeking $18.7M Per Year
Power 90, Contact 75, Speed 43, Fielding 79
Will Clark: Overall 92, Age 25, Seeking $25.3M Per Year
Power 74, Contact 86, Speed 64, Fielding 87
Phil Niekro: Overall 92, Age 30, Seeking $19.7M Per Year
Stamina 99, H/9 72, K/9 78, BB/9 70
Orel Hershiser: Overall 91, Age 29, Seeking $21M Per Year
Stamina 96, H/9 72, K/9 59, BB/9 72
Ozzie Smith: Overall 90, Age 32, Seeking $19.6M Per Year
Power 18, Contact 60, Speed 91, Fielding 99
Harmon Killebrew: Overall 90, Age 33, Seeking $17.4M Per Year
Power 96, Contact 57, Speed 36, Fielding 63
Cliff Floyd: Overall 89, Age 28, Seeking $17.2M Per Year
Power 77, Contact 70, Speed 68, Fielding 70
Jack McDowell: Overall 89, Age 27, Seeking $17.2M Per Year
Stamina 92, H/9 67, K/9 61, BB/9 72
Kenny Lofton: Overall 88, Age 27, Seeking $20.1M Per Year
Power 42, Contact 82, Speed 90, Fielding 95
Robin Yount: Overall 88, Age 26, Seeking $23.3M Per Year
Power 52, Contact 74, Speed 73, Fielding 86
Brooks Robinson: Overall 88, Age 27, Seeking $22M Per Year
Power 47, Contact 64, Speed 59, Fielding 99
Dante Bichette: Overall 85, Age 31, Seeking $9.7M Per Year
Power 71, Contact 79, Speed 63, Fielding 68
Steve Finley: Overall 85, Age 34, Seeking $8.8M Per Year
Power 64, Contact 66, Speed 77, Fielding 89
Joe Carter: Overall 85, Age 32, Seeking $9.9M Per Year
Power 78, Contact 59, Speed 68, Fielding 63