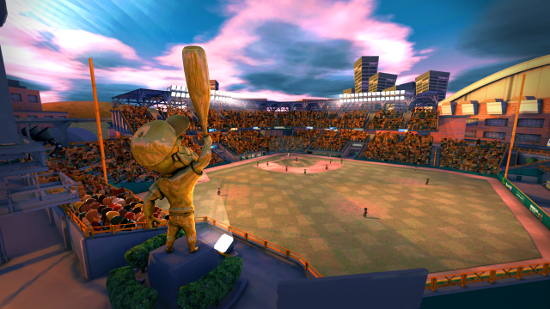 Metalhead Software, the developer behind Super Mega Baseball, which surprised many last December as one of the best sports games of the year, announced today that the game will be coming to Xbox One and Steam this summer. It had been exclusive to PS4 and PS3.
The game will go by the new name of Super Mega Baseball: Extra Innings. It will include new content such as stadiums, enhanced gameplay, and improved simulation elements. 
Additional features include:

♦Realistic simulation and physics: Don't be fooled by the light-hearted/comical presentation; the fundamentals of the sport of baseball are well represented

♦Up-to four player local co-op play: In addition to solo play, there's head-to-head, 2v1, 2v2 and co-op against the CPU

♦Ultra responsive and blazing fast gameplay: Controls are easy to learn, but players will need to master jumping, diving, wall-catches, power-swings and cut-off plays to properly dominate friends

♦Full batting and pitching statistics: Comprehensive baseball statistics that ballplayers can use to show off their MVP-quality skills
One feature still missing though that has to be noted is online play. Discussion related to a major patch coming soon for the PlayStation versions has been taking place on the company's Twitter account. The new content found in Extra Innings on XB1/PC will be added to the PS4/PS3 versions through upcoming patches or free DLC. The game was recently available for under $5 but the standard price had been $20. No details have been provided yet on how much the game will go for on Xbox One and PC.