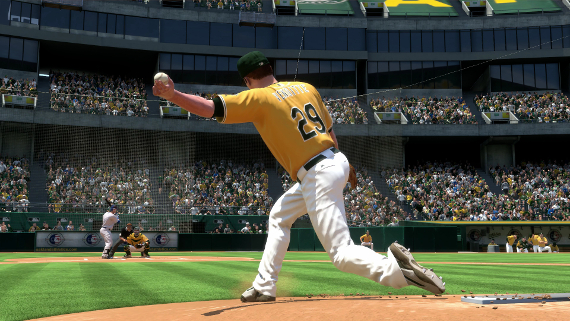 Lots of rookies make their debut with today's roster update for MLB 15: The Show, including heralded prospect Carlos Correa, and "switch-pitcher" Pat Venditte.
Correa comes in as one of the highest rated rookies this year, trailing only Kris Bryant, Yasmany Tomas, and Addison Russell among the crop to move up so far this season. Venditte is the lowest rated one and isn't represented in any special manner as he has been designated as a normal left-handed pitcher.
In terms of ratings movement Chris Archer is the big winner moving up 4 points to 91 Overall. Sonny Gray is not far behind going up 3 to 90. Dellin Betances (+3 to 90), Jason Kipnis (+2 to 89), and Albert Pujols (+3 to 86) are also big gainers. Headed downward however are Matt Harvey (-1 to 93), Jon Lester (-3 to 86), and Yadier Molina (-3 to 83).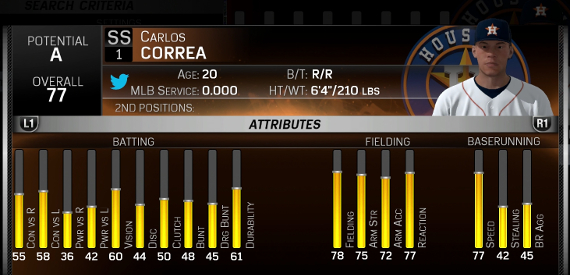 New Rookies
Carlos Correa, SS, Astros (77 Overall, A Potential)
Vince Velasquez, SP, Astros (69 Overall, A Potential)
Taylor Jungmann, SP, Brewers (69 Overall, A Potential)
Giovanny Urshela, 3B, Indians (66 Overall, B Potential)
Joe Ross, SP, Nationals (64 Overall, B Potential)
Jon Moscot, SP, Reds (62 Overall, B Potential)
Adam Conley, RP, Marlins (62 Overall, B Potential)
Junior Guerra, RP, White Sox (60 Overall, D Potential)
Pat Venditte, RP, A's (53 Overall, D Potential)