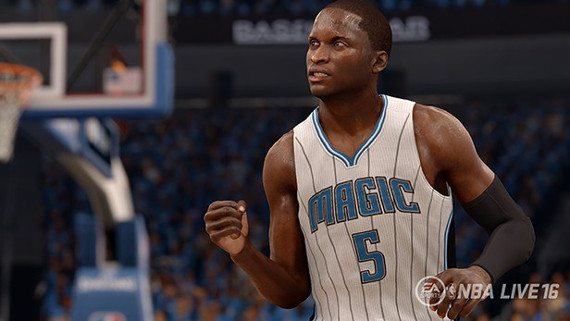 EA Sports today released additional details on the improvements that have been made to enhance the look of NBA Live 16. Those include an overhauled lighting system and color-correction, introduction of more player personality and emotion, and the scanning of not just player faces but environments, jerseys, and accessories. 
SELF-EXPRESSION IN NBA LIVE 16
Basketball is a sport that is all about self-expression. Unlike other sports, fans are able to get an up-close and personal look at players. They aren't covered with pads, helmets or heavy gear, so every expression is visible. That being said, it's important to nail down each player's likeness, attitude and emotion.
3D FACE SCANNING TECHNOLOGY
The first step in the process involves scanning all the players and coaches from the NBA. EA SPORTS invested in the scanning process nearly three years ago, and continue to refine this process. The more we have scanned, the better we have gotten at the process, and that leads to better, more lifelike results.
SCAN THE HOUSE AND EVERYTHING IN IT
But the scanning didn't stop there. We got such great results with players, we decided to scan as many things as possible. This includes jerseys, accessories, shoes, socks, environments and more. That means the same level of detail seen on players is seen in everything else.
EXPRESSIONS ARE EVERYTHING
Like we said before, NBA faces aren't obstructed, so you are able to see each and every expression on them. Mad, dejected, thrilled, whatever they might be feeling, all of these emotions are easily distinguishable on players faces. With that said, the team focused on making sure their facial animations were on point.
PLAYERS LOOK ALIVE
Another thing to note is that players don't have that "dead" look in their eyes anymore. Since we completely overhauled the facial animation system, utilizing 100% accurate scan data, players behave and react more like their real-life counterparts. Now, there is more natural movement of the skin on top of the cheek, brow, chin and jaw bones.
LIGHTING ENHANCES THE LOOK
The lighting system received a complete overhaul in NBA LIVE 16. Nearly every single asset in game was worked on or tweaked from a visual illumination perspective. A big part of this includes the color correction made across the board, which gives a more broadcast-quality look and feel to the visuals.
TEXTURES AND TONES AND EVEN SWEAT
Jersey colors and skin tones on different players are also much more accurate, resulting in better skin textures and sweat effects. This is the culmination of a three-year process to improve the visuals for the NBA LIVE franchise, and we are just getting started.