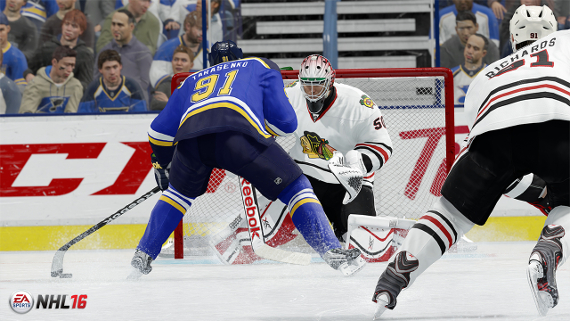 EA Sports today released two new videos for NHL 16 intended to show off gameplay improvements. The first is a trailer that goes over "balanced gameplay" featuring Precision Skating and Seamless Puck Pickups. Then there is a brief look at pure gameplay footage, the first real opportunity to see the game in action, and the company has provided some notes on specific subtle improvements particularly on defense to look for within the video. 
1:50 – Silfverberg shoves Sustr from behind, who loses control of the puck in a subtle stumble.
1:25 – Silfverberg's stick makes contact with the defender's legs which causes him to lose control of the puck.
1:19 – Stick on stick contact from backside pressure, which causes Silfverberg to fan on the shot. Sustr picks up the puck but loses control after running into traffic.
0:57 – AI defender Vatanen makes a smart pinch after holding the blueline and picks up the puck in stride.
0:55 – AI defender Sustr shows strong facing when he parks in front of his net early. His good position helps him pick off a cross-crease pass and is able to quickly transition out of the zone.
0:46 – AI defender doesn't have enough time to react and just misses defensive deflection on the pass from behind the net. Boyle takes an unsettled one-timer and the shot goes wide.
0:42 – The relative speed of the pass is too hard for the Anaheim player to handle in close proximity, so he mishandles the pass before picking it up with control.
0:38 – AI defender Coburn is in good position and cuts off the passing lane from the streaking offensive winger.
0:33 – AI defender is able to get a stick into the passing lane, but the puck still deflects to Kucherov who is able to corral the puck. This slight break-up in timing forces Filppula to drag his foot to stay on-side.
0:30 – Kucherov turns the puck over as he gets rubbed out into the boards. The strong back-check and defensive support from Thompson results in a quick breakout for Anaheim.