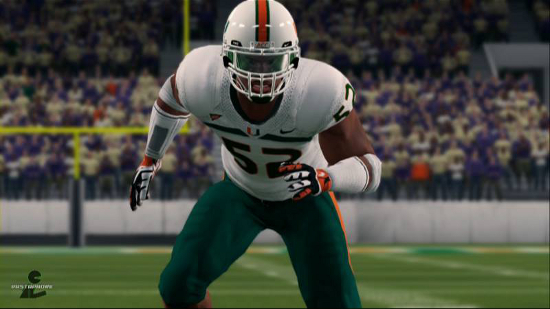 After nearly a year and a half dormant, the last post being made in July 2014, the EA Sports NCAA Football page on Facebook woke up today and only hours in advance of the College Football Playoff National Championship. A short video of a pulse was posted which could mean a lot of things, but at the very least something would seem to be going on regarding the series given that they have not posted to social on any NCAA accounts in such a long time.
NCAA Football of course was cancelled in 2014 after EA Sports agreed to a settlement in the O'Bannon class action lawsuit regarding the improper use of likenesses. Its return has depended on eventual finality from the legal process which is still realistically a year or two away from happening. Unlikely, but theoretically possible, is NCAA Football 14 being made backwards compatible on the Xbox One. It could also relate to new content being added to Ultimate Team though even that seems improbable given the time that has passed since it released.
A tease of this nature, especially given the timing and craving from consumers for the series to return, is going to result in wild speculation. Hopes should probably be tempered but the intrigue will be there until a definitive statement from the company is made.
Though EA is now saying the post means nothing, and they've edited in text to suggest it's referencing the game tonight, it's hard to believe that something isn't happening, as the company obviously knows the emotions of consumers they are toying with by making such a post. That, or whoever is responsible for the post has created a storm of completely unnecessary backlash for them to deal with as the news is hitting everywhere.