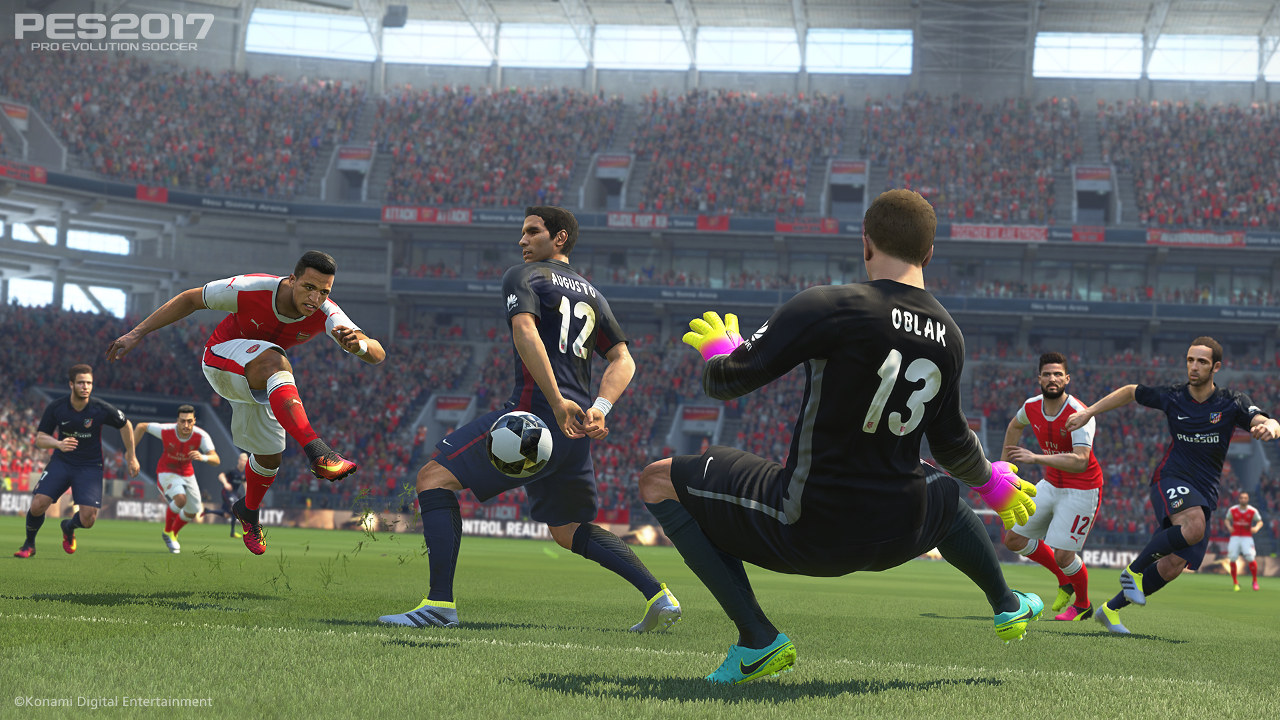 Back in May publisher Konami revealed the first set of gameplay related improvements to look forward to with PES 2017. Now they've provided a more complete list of features for the game. One promise of note is for weekly roster updates. That's important coming off a year where once again post-release support was unacceptable with the most glaring issue the 11 weeks it took to get a simple roster update out for the game. 
myClub
Scout
♦The Scouts required to sign the player you need is now available through the auction house. If you sign the right Scout with their specialty areas covering your star, scouting him will be so much more higher in chance. 2017 functions support the scout to keep their word when you specifically describe the player you want to sign.
♦It is now easier to sign players below the rate of 75 through Top Agents.
Analysis
♦Now you can check your opponent's play style and tendency when matching on online matches with Match Analysis. Observe and learn your opposition's approach, and change your Advanced Instructions to take command and control of the next match.
Tutorial
♦New tutorials have been created when starting myClub, making it easy for newcomers and veterans to learn everything about the mode.
Master League
Negotiation
♦Significant changes to the transfer system, with new dedicated budgets for transfer funds and player wages. More variety in the negotiation such as 6 month loan, and signing the player during his loan period.
♦The element of time has been added to the last day on transfer windows, setting a deadline to add excitement and tension to sign your players, just like in real life football.
♦Directors will also play their role on giving advice to the player for negotiations.
Team Role
♦Team role which has been a popular addition since 2016 sees further enhancement with now 22 roles compared to 10 in PES 2016, with added roles such as 'Hero' and 'Bad Boy'. This allows for more character establishment for your team.
Player Growth
♦Player Growth system has been improved, with players now acquiring not just abilities as in PES 2016 but also skills. Some players may see a boost in their abilities while on loan.
♦Training system has been further improved, with players now being able to learn skills and establish their play style through Training. In PES 2017 players can now learn their position, enabling you to further realize your ideal player and team.
Real Life Kick Off Times
♦Day and night match balancing throughout the season, taking into account real life kick off times.
Versus Data – Match Analysis
♦New feature within certain match modes tracks your player history for offline matches with friends, as well as your playing styles
♦Never have to wonder who is better between you and your friends, as the mode will track everything from games won, lost, drawn, to goals scored and conceded
♦Versus also deeply tracks playing style, such as possession play or if you like to counter attack. It will also let you know your favorite move, such as sliding tackle or interception.
Other
Referees
♦Improved judgment on player collisions to determine fouls. Smaller fouls will be called up, as well as extra intelligence when playing the advantage rule, including going back to book players after an earlier challenge.
Stadiums
♦Additional stadiums added, from new licenses to original designs. Brand new pitch turf designs give variety, as well as new options on goal net types in edit mode, which adds a unique look to every stadium you play in.
Live Update
♦Available as a Day One update when users connect online. Weekly updates will now be able to be downloaded to all offline modes. This will enable all users with online connections to play with the latest rosters. This will also apply to European transfers for winter, the long wait is now gone from your worries.
Presentation
♦Completely new menu design throughout the game, from main menu to pre-match settings to gameplan. Significant upgrade to match presentation, including new HUD and redesigned highlights and replay system.
Vibration
♦New controller vibration adds the feeling of being in the thick of the action. Varying vibrations for impact and player collisions, as well as shots and when the ball hits the post.
Edit Data Sharing Available for PS4
♦Share your create teams and players with other only through easy transfer via USB
♦Data sharing is multiregional, allowing European users to share with fans from US or Asia