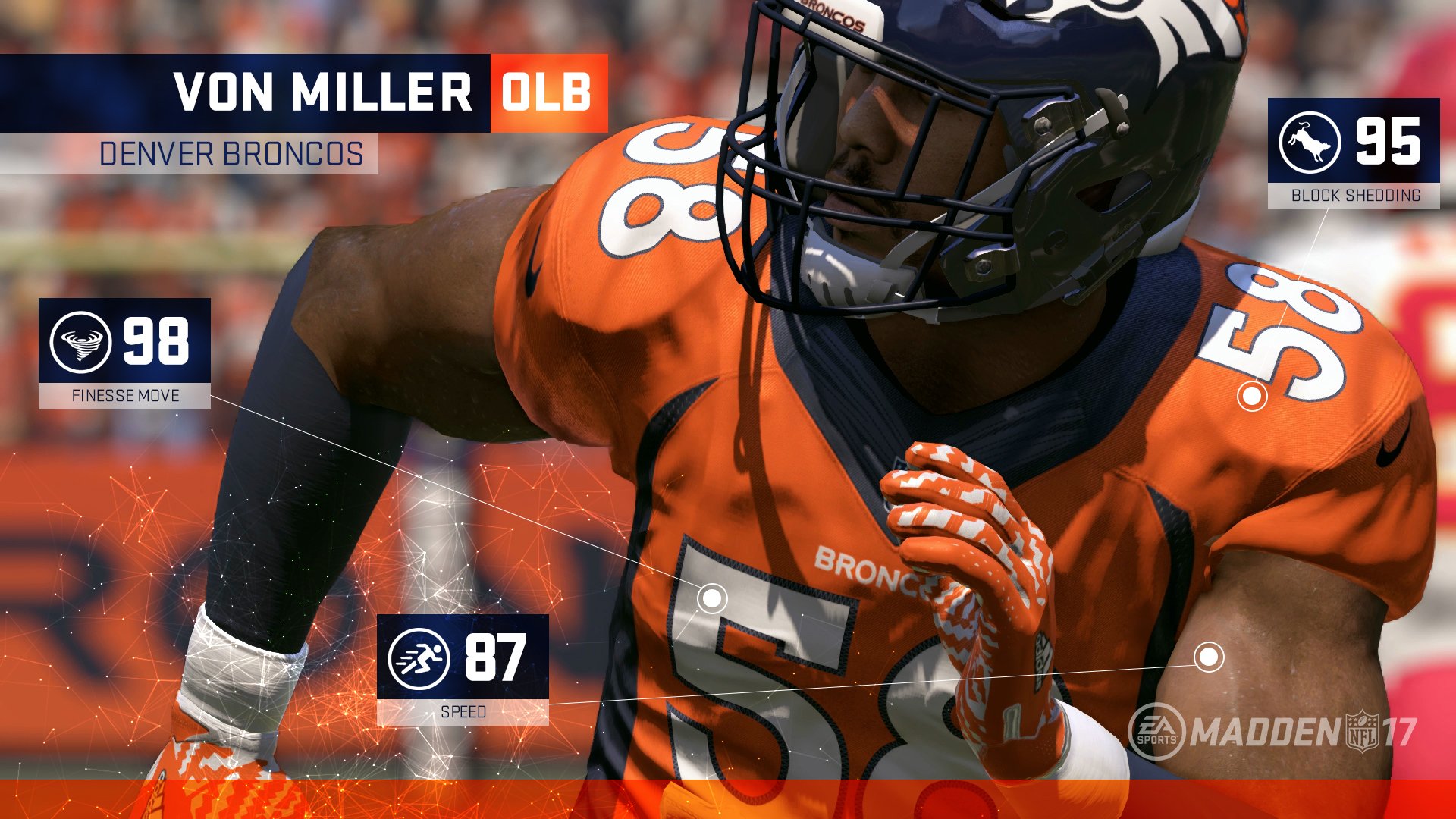 Von Miller and Luke Kuechly have retained their 99 Overalls from last season and join Rob Gronkowski and J.J. Watt as the only ones with the rating in Madden NFL 17. At OLB it's Dont'a Hightower who makes a leap to claim a top spot, passing by three players at the position to do so – however the remaining nine players all return to the top of the rankings.
MLB
T-#4 Jamie Collins – 88 Overall
T-#4 Bobby Wagner – 88 Overall
T-#2 Derrick Johnson – 90 Overall
T-#2 Brandon Marshall – 90 Overall
#1 Luke Kuechly – 99 Overall
OLB
#5 Dont'a Hightower – 90 Overall
#4 Pernell McPhee – 92 Overall
#3 Khalil Mack – 94 Overall
#2 Justin Houston – 97 Overall
#1 Von Miller – 99 Overall
Again, the trend this year is artificially lowered Overall Ratings but with individual attribute ratings that have generally stayed about even or risen from last season. That has held true at linebacker where the biggest changes are to Khalil Mack (+3 Acceleration), Justin Houston (+2 Block Shedding), and +2 in Speed to Miller, Kuechly, Marshall, and Collins.
Previously: Top Rookies – Top Quarterbacks – Top Running Backs – Top Wide Receivers – Top Offensive Linemen and Defensive Tackles – Tight Ends – Defensive Ends – Cornerbacks