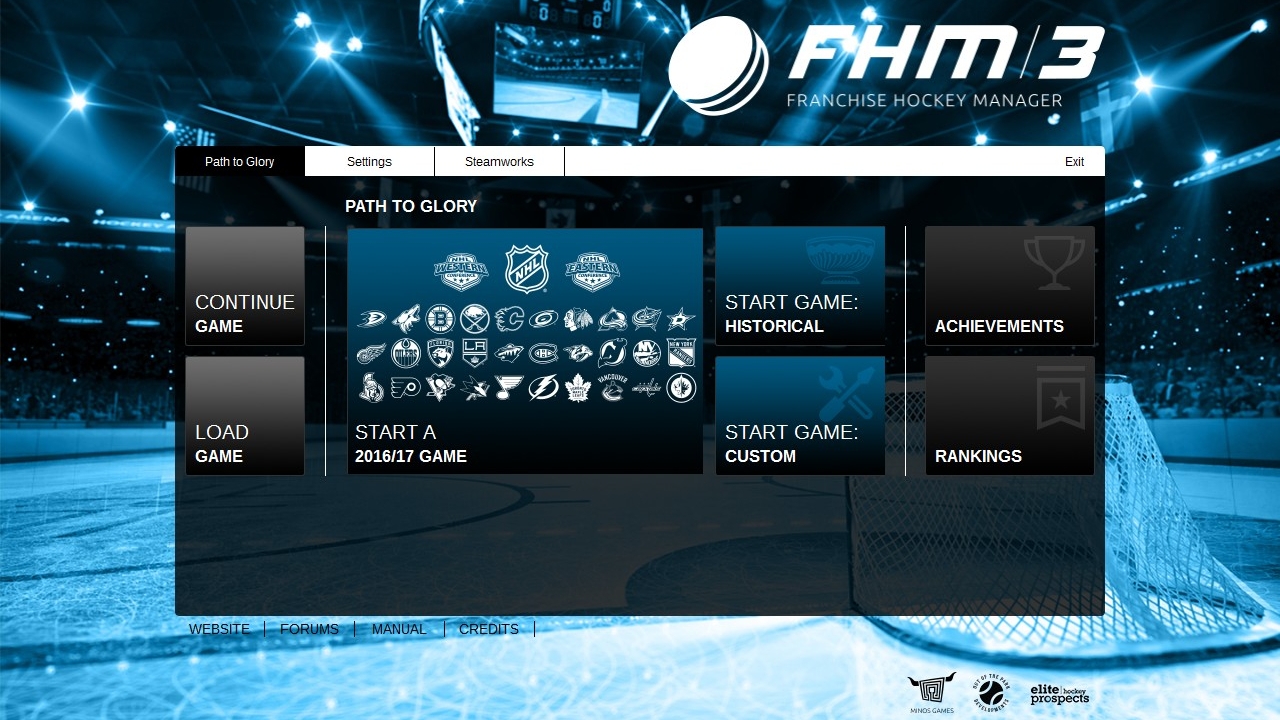 The first video game product for PC to carry with it the NHL license released today in Franchise Hockey Manager 3. Having the license means for the first time the sim management series will have all the real teams, logos, uniforms, Stanley Cup and league awards to go along with the real player names. The last game licensed by the NHL to release on PC was NHL 09 in 2008.
FHM comes from Out of the Park Developments, the same studio that produces the Out of the Park Baseball series. The game is $40 and can be purchased from the official website or through Steam where it is 10% off for the next week. 
Officially Licensed by the NHL
For the first time ever, the game is now officially licensed by the National Hockey League.The NHL license allows the game to feature NHL logos and uniforms for all 30 teams.
2016-17 Team Rosters
FHM 3 offers 22 playable leagues for the 2016-17 season, including the National Hockey League, minor leagues in North America, the Canadian major junior leagues, and leagues across multiple levels of European hockey. All included leagues feature real current rosters, based on countless hours of detailed research and work on player ratings.
New Career Mode: Path to Glory
Path to Glory is a streamlined and more approachable way to play the game, with improved game and information flow, including more news from your league and the rest of the game world. You generate your GM/coach, complete with special skills, and start your career with a lower-level team before working your way up the ranks. Or you can jump right into the pro scene with your favorite club and lead it to glory.
Over the years, you gain experience and improve your skills until retirement beckons, hopefully with a few championships under your belt. You can carry on in your original game world with a new GM/coach or start fresh with a brand-new game.
International Play
FHM 3 features all the major international tournaments, including qualifying stages, and full international rankings, all the way down to the Group III level, offering the chance to lead non-traditional hockey nations like Australia, South Korea or China to glory.
New Role-Based Tactical System
The tactical system has been completely revamped, allowing you to choose from a variety of pre-set tactics to build your team's system and then assign players specific roles that fit into that system. Every game is now a tactical struggle between coaches to win and hold the edge over the other team, while getting the most out of their players.
Rebuilt Injury System
Injuries are now generated directly from in-game events and correspond to specific activities – fights will break noses more than they will sprain ankles. Players are now rated for durability in different parts of their bodies, and serious injuries in one place can leave them more vulnerable to more injuries of the same type later in their career. And recovery time from injuries is no longer a sure thing – you may expect your superstar to be back in time for the big game, but your trainer might bring you bad news.
Updated Development Process
Player development has received some significant changes, introducing more variability and making player evaluation much more uncertain.
Updated Interface
The well-received FHM 2 interface has been refined even further to make playing the game easier than ever.
Achievements
Your in-game accomplishments can earn you 50 different achievements that work in both the Steam and non-Steam versions of the game. If you play through Steam, you get a Steam achievement that matches the in-game one.