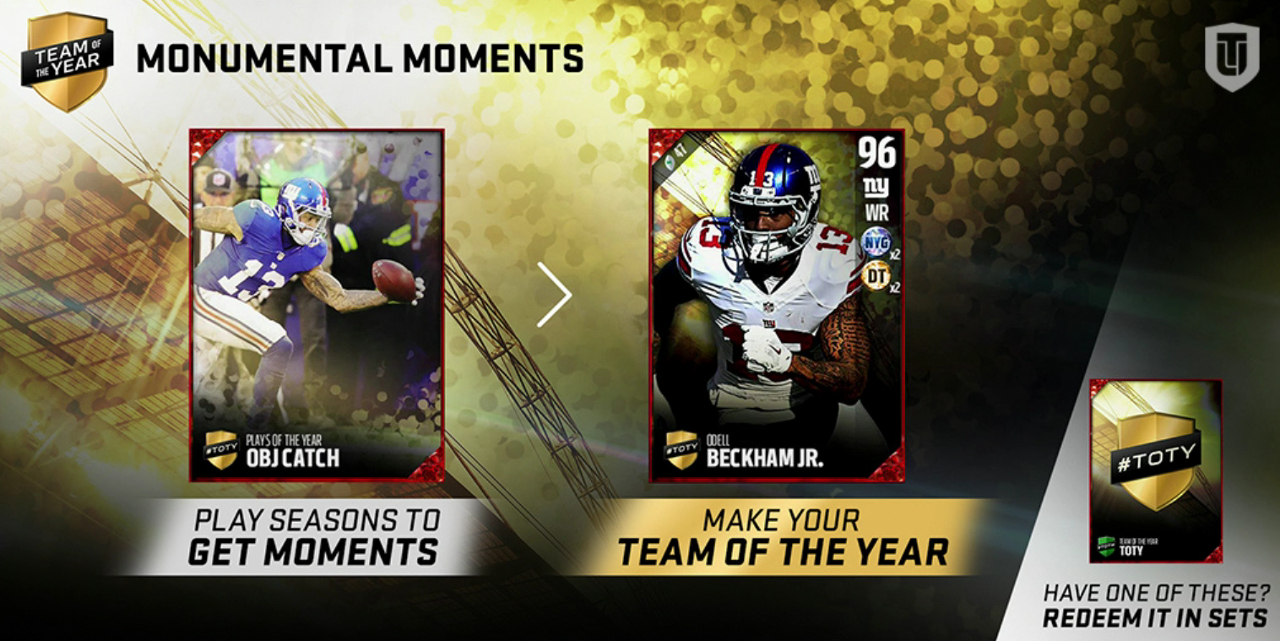 One of the most anticipated programs in any Ultimate Team is the introduction of the Team of the Year players as respective seasons near their completion. Today EA Sports rolled out Team of the Year in Madden NFL 17 for the offensive side of the ball (defense will be coming soon) and it involves new highly-rated cards with multiple chemistries, Solo Challenges, packs, and Sets.
Offense: Derek Carr (QB), David Johnson (HB), Ezekiel Elliott (HB), Kyle Juszczyk (FB), Greg Olsen (TE), Kyle Rudolph (TE), Odell Beckham Jr. (WR), Jordy Nelson (WR), Mike Evans (WR), Tyreek Hill (WR), Andrew Whitworth (LT), Richie Incognito (LG), Matt Paradis (C), Marshal Yanda (RG), Jack Conklin (RT)
Defense: Cameron Wake (LE), Brandon Graham (RE), Fletcher Cox (DT), Kawann Short (DT), Khalil Mack (LOLB), Bobby Wagner (MLB), Paul Posluszny (MLB), Sean Lee (ROLB), Janoris Jenkins (CB), Aqib Talib (CB), Chris Harris (CB), Dominique Rodgers-Cromartie (CB), Eric Berry (FS), Devin McCourty (FS), Landon Collins (SS), Jonathan Cyprien (SS)
Special Teams: Justin Tucker (K), Johnny Hekker (P)
There are currently 10 new Solo Challenges that are only available to complete today, so a new group of them will likely appear tomorrow. Each one gives out a "Moment" card. 40 of the Moments cards turned in for the offense (and eventually defense as well) will award a random Elite Team of the Year player from that side of the ball.
Turning in 16 of the Team of the Week Collectibles that were earned from the weekly challenges throughout the season awards a Team of the Year Item used to get an Elite Team of the Year player. The TOTY Packs go for 50,000 Coins or 500 Points (equivalent of $5) and include 4 Team of the Year Items, 2 Gold or Better Players, 2 Silver or Better Players, and 2 Team Items.