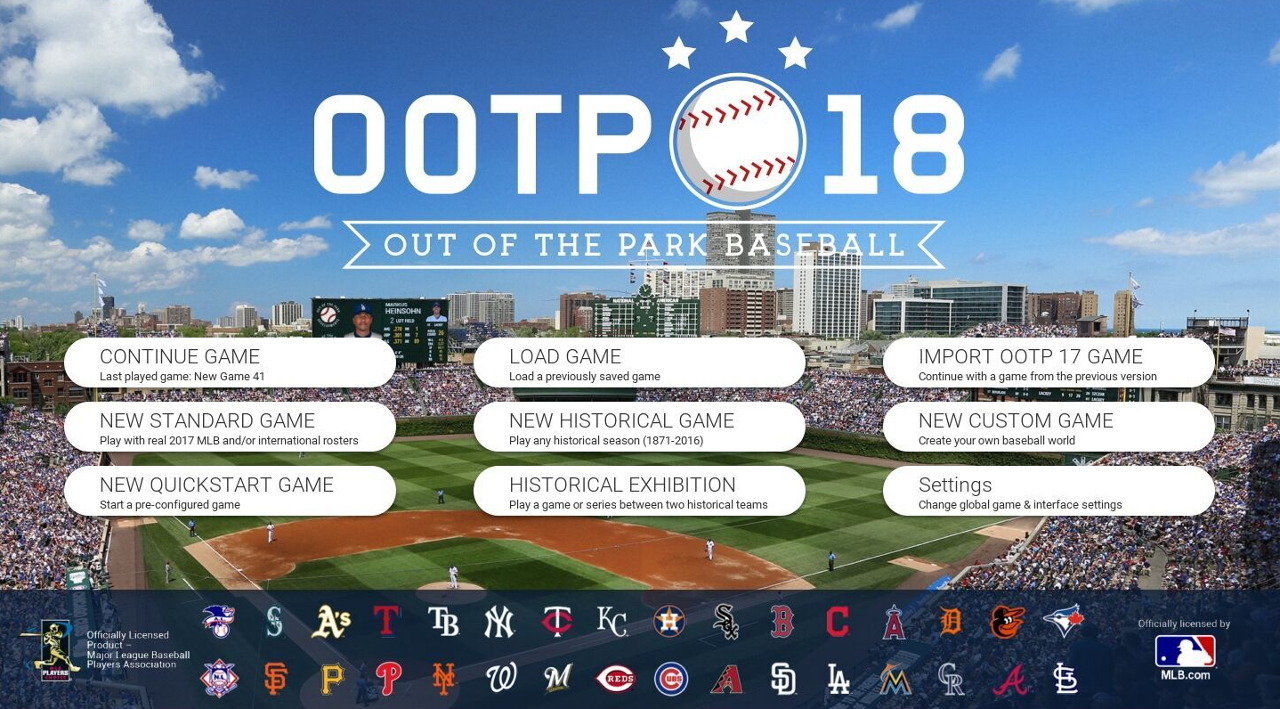 The first news on the next edition in the PC sim-management series Out of the Park Baseball arrived today, with the reveal of several new features, release date, and pre-order details. Headlining the feature list is a new Challenge Mode and historical Negro League clubs.
Out of the Park Baseball 18 will officially release March 24 but those who pre-order the game will get to start playing on March 18. Pre-orders made before January 28 will also receive a 20% discount (down to $32) while any after that will save 10% instead (down to $36). 
♦Challenge Mode: This will allow series newcomers to enjoy a powerful way to learn the intricacies of this deep strategy title, while driving community engagement for all users via the creation of online profiles to share accomplishments on new leaderboards. The Challenge Mode is just the beginning of an all-new, long-term expansion of OOTP's online platform — more will be unveiled during the course of the 2017 baseball season.
♦2017 roster sets with all Opening Day MLB rosters, as well as the complete minor league system from AAA down to rookie leagues and the Arizona Fall League. All major league (and over a thousand minor league) player ratings are based on the popular ZiPS player projection system. The 8 international leagues, as well as independent minor leagues in the US, also return this year with accurate rosters.
♦Historical Negro League clubs, thanks to a partnership with OOTP's acclaimed historical database experts and Seamheads.com. This feature will allow baseball fans to explore the rich history of a bygone era, create compelling what-if scenarios, pit major league clubs against their Negro League counterparts, and much more.
♦Improvements to 3D mode, including: Even more ballpark detail; better on-field player models and enhanced on-field decisions; and the ability to save all 3D highlights and watch a highlight reel, whether the game was played out or simulated.
♦Custom and real world tournaments for all the teams included in the game. National and international tournaments are a breeze to create, as is the ability to import historical teams.
♦Extensive AI improvements, including roster management, trades, and in-game decision-making.
♦A redesigned injury system that features detailed injury histories for all players, little nagging long-term injuries, and more.
♦Many more improvements, including: A beautiful new interface – Improved game recaps – An upgraded player morale/team chemistry system – Enhanced play-by-play text and league news – A sophisticated system for team relegation and promotion between leagues – The ability to retain player salaries in trades – The incorporation of many 2017 CBA (Collective Bargaining Agreement) rule changes – Faster import speeds of historical minor league seasons – And more to be announced prior to release