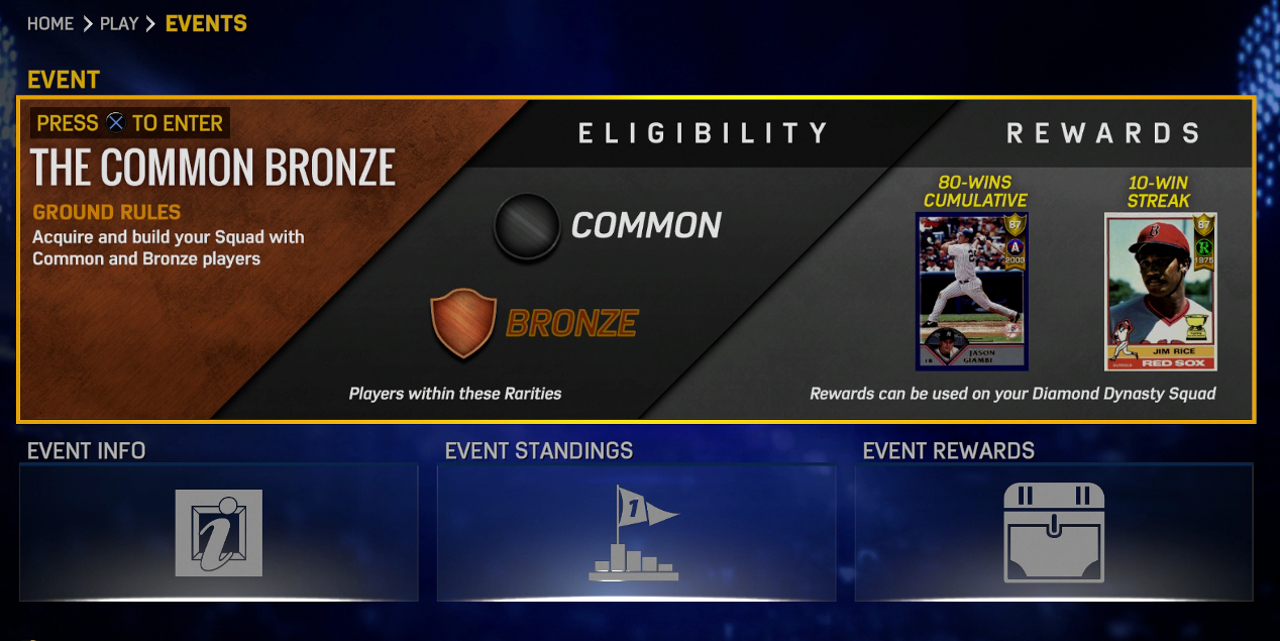 Events are a new feature in MLB The Show 17's Diamond Dynasty, providing an additional purpose for lower-rated cards which will be useful depending on the various themes that will be applied to them. The first one has gone live today involving rosters filled with only Common and Bronze players and will remain open into next Tuesday. 
Event Details
Your maximum team overall is capped at 79 OVR for The Common Bronze Event and you can only use Common and Bronze players. That gives you some wiggle room to find specialists with strengths in different attributes, but it will be tough to build a dominating lineup.
Focus on your starting lineup and make sacrifices where you can on the bench to keep your team overall at 79 overall or below. It's worth noting, Inside Edge will change daily and impact player ratings and overalls.
Events have their own dedicated lineup, but only player items from your Inventory are eligible. You don't have change your lineup on the My Squad screen unless you want to practice in Diamond Dynasty games or test your lineup-building skills. Now, Events, Ranked Seasons and Battle Royale all have their own distinct lineups, which makes it easy to jump between different Diamond Dynasty games.
The Common Bronze Event consists of only 3-inning games. Events will vary in inning length this season such as 3, 6 and 9 innings.
Rewards
10-WIN STREAK: Rookie Legend Jim Rice (Gold LF 87 OVR)
8-WIN STREAK: Guaranteed Gold Live Series Player
6-WIN STREAK: Guaranteed Silver Live Series Player
4-WIN STREAK: Guaranteed Bronze Live Series Player
80-WIN CUMULATIVE: All-Star Legend Jason Giambi (Gold 1B 87 OVR)
60-WIN CUMULATIVE: Guaranteed Gold Live Series Player
40-WIN CUMULATIVE: Guaranteed Silver Live Series Player
20-WIN CUMULATIVE: Guaranteed Bronze Live Series Player
Unfortunately for those wanting to go after the premier awards the Event has been designed only for those who can commit an absurd amount of time towards playing.
Let's just say someone really good at The Show goes and wins 75% of these 3-inning games. In order to reach the 80 win threshold, that person would have spent a minimum of 40 hours over the next week to do so – and likely much more given a good number of the games would go into extra innings and it's a crapshoot whether the results will actually be recorded once complete. The win streak reward will also be difficult but at least it's not a totally unreasonable ask as good players could put together lengthy streaks. Regardless for most people time will probably be more effectively spent elsewhere within Diamond Dynasty than with this Event.
[Update] Also, since the Event is reliant on the unreliable servers, predictably there are already issues just minutes into the Event that are being worked through. The wrong rules have been put into place for card selection, the Event pulled down, and leaderboard wiped. The start has now been pushed back to Wednesday.

[Update 4/5] The event has now started.