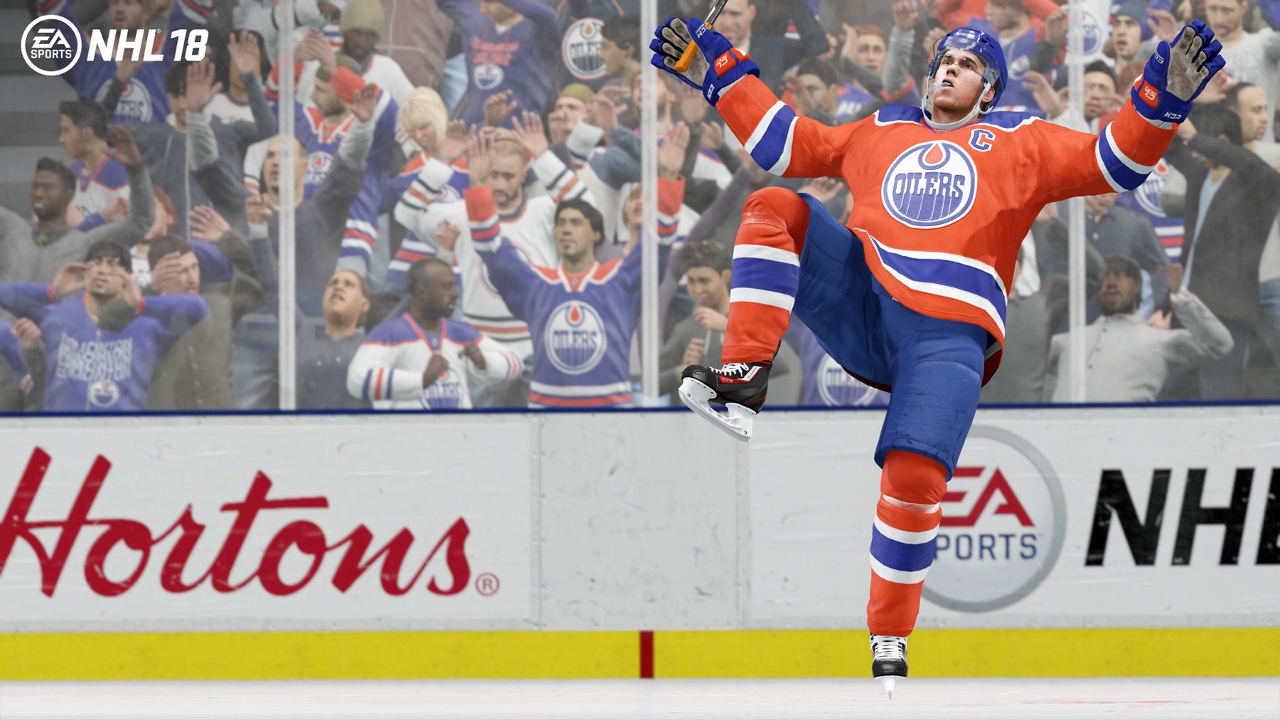 EA Sports has now revealed the cover athlete for NHL 18 and accompanying features for the game. Surveys sent out to gauge reaction to potential features months ago revealed much of what to expect out of NHL 18 and now many of those have been officially confirmed. Connor McDavid has been chosen for the cover and the special edition goes with the theme of "Young Stars" while an online beta has been announced. 
This will be the third straight year the series has offered an online beta. This time around it'll include not just EA Sports Hockey League but also online versus and NHL Threes. The beta will run from July 26-August 2 and sign-ups for codes can be completed here.
Gameplay Features
The new Defensive Skill Stick gives you full control over your stick to target poke checks, keep your stick extended against an attacker to disrupt a play, and even sweep your stick back and forth to cover a zone.
All-new offensive deke moves that deliver the creative freedom and control seen in today's NHL, including one-handed moves, between-the-legs dekes, back-handed toe-drags, heel drags, cheeky puck flips and more. New deke branching gives you control to choose how you string deke combinations together into fluid dangles based on moment-to-moment decisions and reaction time.
A.I. teammates now leverage the same creative deking and passing tools that you do, creating smarter plays up and down the ice. Teammates are better at finding you in breakout opportunities through off-the-boards bank passing, lead passing and improved positioning. A.I. will also use the Defensive Skill Stick, making them more effective teammates in your own zone.
You no longer need all five of your teammates to fill an EASHL match. Jump into 3-on-3 and experience a whole new competitive arena. Bringing authentic NHL 3-on-3 overtime to EA SPORTS Hockey League, you can now choose to play 3-on-3 full matches, opening up more ice for you and your teammates to get creative, pull off big plays, and showcase brand new skill moves. With more space to attack – and to make mistakes – 3-on-3 EASHL is higher stakes with more competition and skills.
NHL 18 features an all-new Training Camp designed to ensure you get on the ice and have success immediately. Watch real-life videos from hockey professionals that teach you the right moves for the right moments, then jump into the training sessions and complete each challenge to become the most competitive player you can be. Training Camp is also now integrated in the in-game Coaching Feedback tips and On-Ice Trainer, allowing you to hear the feedback and watch videos on-the-fly that teach you how to improve your play.
NHL Threes
An all-new 3-on-3 hockey experience with bigger hits, faster action and more open-ice to create big plays, beautiful dangles and more goals. EA SPORTS NHL THREES is inspired by fun, pick-up-and-play arcade sports games where you can play any way you want to, online or offline, co-op or competitive.
EA SPORTS NHL THREES features a complete single-player campaign mode where you compete against different teams and leagues in a circuit-style journey. Progress through the campaign and unlock objective-based rewards along the way – including new teammates, jerseys, logos and even a few surprises!
Jump into EA SPORTS NHL THREES and keep the pace fast and exciting after the puck drops. No offsides and no icing means anything goes and the fun doesn't slow down. Every penalty sends you straight to center-ice for a penalty shot and the chance to earn a crucial goal.
In NHL THREES, you decide how to win the game. Flip a coin to determine the rules and the winner chooses how many periods to play or what goal limit determines the winner. Gotta win by two? It's all up to you.
An all-new commentator delivers more humor and fun, and adds to the unique energy and excitement of fast-paced 3-on-3 that keeps the crowd roaring. New broadcast presentation means your goals come with a whole new sizzle.
Brand new arenas deliver more color, more special FX and completely unique on-ice designs that keep your games fresh and as exciting as the gameplay.
Features Online Vs. and Online Team Play to jump into the fast, fun 3-on-3 hockey on a team with your friends. Join two other friends and pick your team before jumping online against three other friends in a full six-player competitive, over-the-top hockey game.
Team up with your friends and play EA SPORTS NHL THREES cooperatively or competitively with the most combinations of mixing local and online co-op play than previous any NHL game.
Expansion Mode
Reshape the entire NHL with the new Expansion Draft feature in Franchise Mode where you get to create and draft a 32nd NHL team and shake up the league. Run an authentic expansion draft where you select the best players from across the league, build a unique roster and take on the front office role to manage the team, the business and the games. Or if you're playing as an existing franchise, protect your current team roster in the Expansion Draft by setting your own Protected Player list.
You select the hometown for your 32nd expansion team, from cities all across North America and even in Europe – from Stockholm to Helsinki to Berlin to St. Petersburg. You choose the place and team and compete to bring the Stanley Cup back to your hometown.
Once you've drafted a new NHL team, use the new, deeper Creation Zone customization tools to choose your city, build an arena, design a uniform and a logo, and for the first time ever – design your very own custom mascot.
Please enable Javascript to watch this video
NHL 18 will release on Friday, September 15 for the standard edition while those who buy the more expensive Young Stars edition will get to start playing on Tuesday, September 12. The special edition will come with a Connor McDavid Hockey Ultimate Team item, Connor McDavid EASHL celebration, 20 HUT Gold Plus Packs and more.