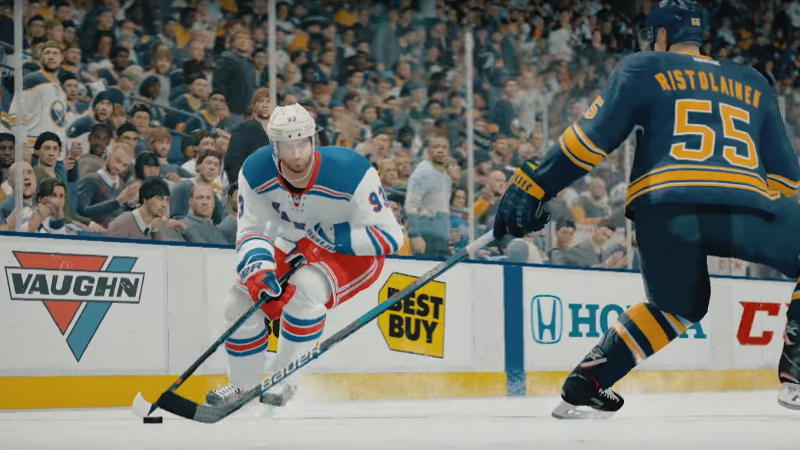 Three weeks ago EA Sports began promotion for NHL 18 by announcing the cover, confirming new features, and revealing details on the online beta that will take place later this month. Today the spotlight has been put specifically on the gameplay improvements that earlier were only referred to, with a display of the new Defensive Skill Stick, Creative Attack Dekes, Creative AI, and 3-on-3 EA Sports Hockey League. 
♦The new Defensive Skill Stick gives you full control over your stick to target poke checks, keep your stick extended against an attacker to disrupt a play, and even sweep your stick back and forth to cover a zone.
♦All-new offensive deke moves that deliver the creative freedom and control seen in today's NHL, including one-handed moves, between-the-legs dekes, back-handed toe-drags, heel drags, cheeky puck flips and more. New deke branching gives you control to choose how you string deke combinations together into fluid dangles based on moment-to-moment decisions and reaction time.
♦A.I. teammates now leverage the same creative deking and passing tools that you do, creating smarter plays up and down the ice. Teammates are better at finding you in breakout opportunities through off-the-boards bank passing, lead passing and improved positioning. A.I. will also use the Defensive Skill Stick, making them more effective teammates in your own zone.
♦You no longer need all five of your teammates to fill an EASHL match. Jump into 3-on-3 and experience a whole new competitive arena. Bringing authentic NHL 3-on-3 overtime to EA SPORTS Hockey League, you can now choose to play 3-on-3 full matches, opening up more ice for you and your teammates to get creative, pull off big plays, and showcase brand new skill moves. With more space to attack – and to make mistakes – 3-on-3 EASHL is higher stakes with more competition and skills.