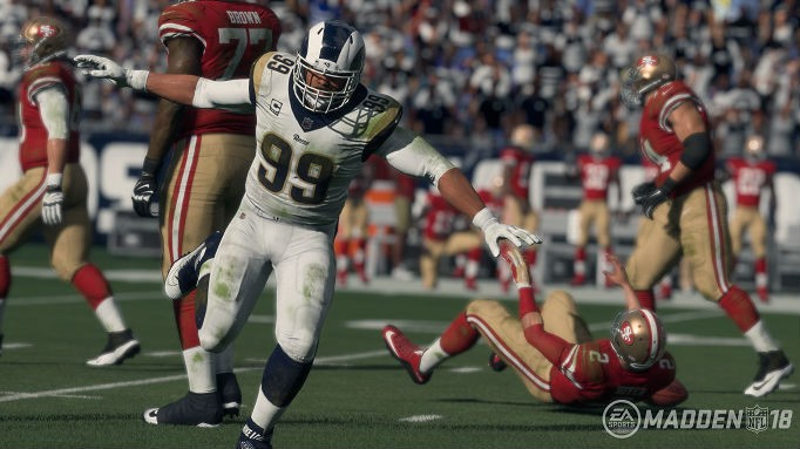 Despite release being only a few weeks away EA Sports has until now been curiously quiet about what's been done for Ultimate Team in Madden NFL 18. The revenue-generating mode has generally been promoted heavily in advance to get players back on board and help drive pre-orders. That tactic was seen earlier this week with FIFA's big rollout even though that game won't be out until the end of September.
Many of the changes taking place for MUT this year are based off community feedback. Those include adjusting the way Overall ratings are calculated, creating more satisfying results from pack openings, and the upgrading of players. 
Player Overall
Arguably, the number one piece of feedback collected last year was that players did not receive enough of an individual ratings boost to justify a 2-to-3 point OVR jump. This made players feel like they couldn't tell much of a difference when playing with the upgraded player. To address the issue, we had to go back and make changes to our player OVR formula.
It's not easy to describe the changes that were made, but here's the general direction we went in. In the simplest terms, player OVR is calculated in a similar way that the salary cap value is. Each position has a formula catered specifically for it. From there, we identify what ratings mean the most at each position and assign a weight to them.
What this all really means is that it will take more individual rating increases in order to increase the player's OVR. We want even a one-point OVR increase to feel like a major difference in performance. Because of this, you will see lower individual ratings at the beginning of the year. The benefits of this OVR philosophy shift really come when factoring in how much "better" a player will feel after an increase in OVR, and later in the year when the player OVR's start to get a little higher.
Last, since we're on the topic of OVR, the way team OVR is calculated has also been changed. We now have more positions like WR3, CB3, DT2, and FB that are included in that formula. You'll also notice that the positional weights have been flattened out compared to past years. So just having a great QB won't significantly impact team OVR. We want every position to feel important when it comes to building your team.
Packs
Another big feedback topic was packs. It was extremely important for us to find ways to add more value to every pack that gets pulled. We accomplished that in a variety of ways, starting with the simplest and most noticeable change – coaches, uniforms, stadiums, and playbooks have been removed from packs. We plan to do our very best to keep most packs exclusively filled with players throughout the year.
So how do you get items that were removed from packs? You'll still start MUT by selecting a starter pack, which provides all of those items from the team you chose. But when you are looking to get more, you'll need something we're calling Team Tokens. Team Tokens are obtainable by trading in Silver and Gold players from the specific team.
We don't have specific examples of how these sets are constructed, yet, because the truth is we are still honing in the exact numbers to make sure we have it right at launch. But again, to obtain a Green Bay Packers Team Token, you will need numerous Silver and Gold Packers players. Having systems like continue adding value to everything you pull out of packs.
Upgrades
Team Tokens are not only used for getting non-player items, they also show up when it comes time to upgrade various items in MUT. And when talking about upgrades, there's no better place to start than with players. At launch, each team has at least four different players that are eligible to be upgraded. Let's run through an example, but as before, we're still tweaking the final Team Token requirements.
Mike Evans, one of the Tampa Bay Buccaneers' players eligible for upgrades, has three sets at launch:
Tier 1: Requires 70 OVR Mike Evans (earned from the Bucs starter pack), Bucs Team Token(s). Receive: 75 OVR Mike Evans (NAT)
Tier 2:: Requires 75 OVR NAT Mike Evans (earned from the previous set reward), Bucs Team Token(s). Receive: 81 OVR Mike Evans (NAT)
Tier 3: Requires 81 OVR NAT Mike Evans (earned from the previous set reward), 89 OVR Core Elite Mike Evans (his "base" item in packs), Bucs Team Token(s). Receive: 91 OVR Mike Evans (NAT)
That example demonstrates the general structure for player upgrades and additional uses for Team Tokens, which again, continue providing value to every single pack. But, players are not the only thing that is upgradable. You can also upgrade coaches, stadiums, and both dark and light uniforms. Upgrading those items provides additional chemistry boosts for players of that same team. This will encourage not only going out and trying to find some of the best players at each position, but also getting players from the same team – something we know a lot of our MUT players love to do already.
If you're able to fully upgrade the Pittsburgh Steelers' coach, stadium, and both uniforms, every Steeler on your team will receive the following chemistry boost: +1 Stiff Arm, +1 Spin Move, +1 Ball Carrier Vision, +1 Juke Move, +1 Elusiveness, +1 Carry, +1 Truck, +1 Release, +1 Route Running, +1 Catching, +1 Catch in Traffic, +1 Spec Catch, +1 Pass Block, +1 Run Block, +1 Impact Block, +1 Finesse Move, +1 Power Move , +1 Pursuit, +1 Tackle, +1 Block Shed, +1 Press, +1 Zone Coverage, +1 Man Coverage, +1 Hit Power
Adjustments to Tiers
With the adjustments made to the player OVR formula, it also made sense for us to revisit the way we've typically broken down our four tiers (Bronze, Silver, Gold, Elite). The one that jumps out most is that Elites now start at 80. When running this proposal by some of our fans, they were excited about the idea of more players from their favorite teams reaching the Elite tier. We feel like having the tiers broken up like this is nice and clean. Plus, who doesn't enjoy seeing more red paint?!
Silvers are 60-69
Golds are 70-79
Elites are 80-99
As you may have picked up on when we showed you the Madden NFL 18 art for the Rookie Premiere players, program borders make a return. For those of you not familiar, imagine opening a pack and getting a Team of the Week player. Last year, the border for that player would've matched his tier (Gold or Elite) but this year all TOTW players will have a green border, regardless of their tier. We will have different colors for almost every program we release this year.
Adjustments to Trade Block
Next up is a topic controversial in the community, but it's something we've talked about going all the way back to a Reddit AMA we did a few months back. The trade block in MUT has been quite honestly abused. Over 90% of the trades are lopsided in value and are overwhelmingly used for nefarious reasons.
We went as far as having discussions of removing the trade block entirely, but that's not something we're ready to pull the trigger on. Instead, we're making a change in the way trades work in Madden 18. Now, when you trade an item, that item becomes non-auctionable. However, if that item is traded back to the original owner, it is once again allowed to be auctioned.
This is the best compromise we could find when it came to reacting to the security issues the trade block is presenting, while still not punishing players who legitimately just want to let one of their friends try out a new player.