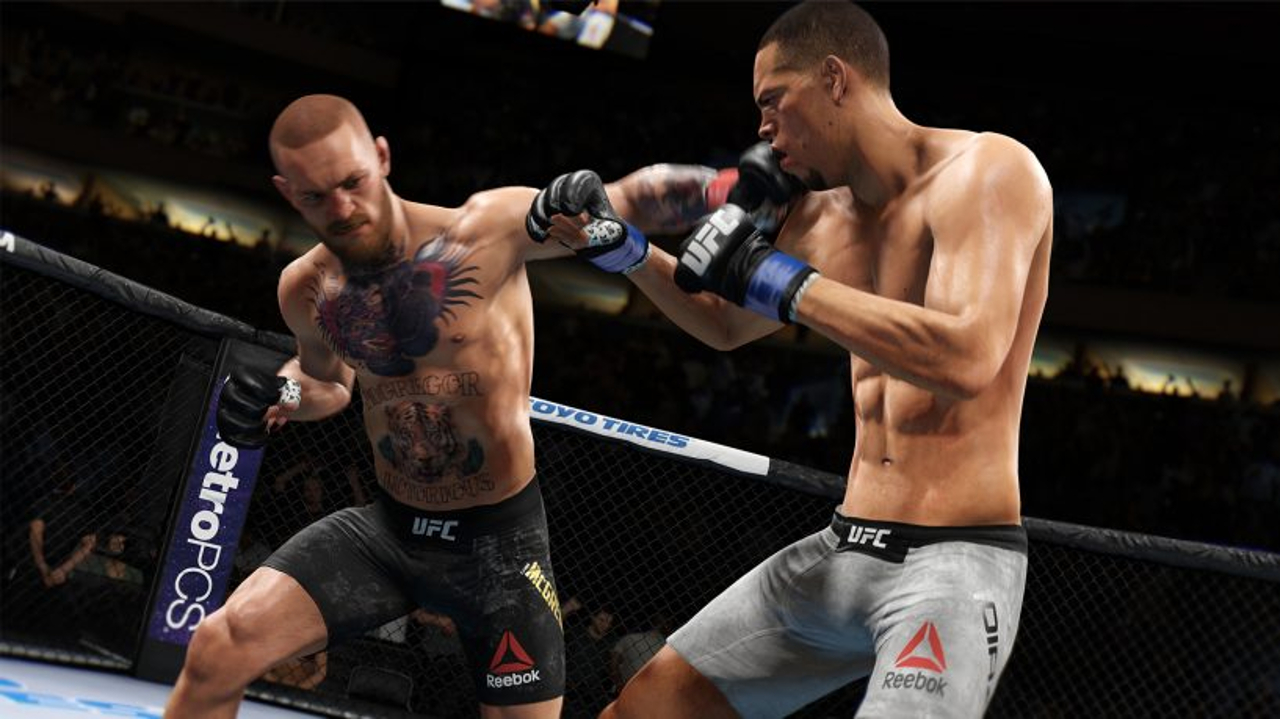 The release of the third entry in the EA Sports UFC franchise is nearing and today the first look at the game was provided with its debut trailer, some feature news, and release details. The series comes off the sequel which improved on the weaknesses of its predecessor and delivered more content to be enjoyed along with a focus more on satisfying MMA fans rather than attempting to capture a general audience that would never have any interest in the game.
EA Sports UFC 3 features Conor McGregor on the cover and will release on Tuesday, January 30 (special edition) or Friday, February 2 (standard edition). Besides the earlier release, the $80 "Champions Edition" of the game includes the choice of a permanent Champion Edition Fighter and Move item in Ultimate Team and 20 Premium Packs. 
Gameplay
Groundbreaking Animation Technology
Powered by Real Player Motion Tech, EA SPORTS UFC 3 features cutting-edge animation technology that makes every move, every strike, and every combination more realistic, responsive, and rewarding.
Strategic Risk vs. Reward Damage System
The new Damage System introduces more tension and thrill based on risk-vs-reward strategy. Fighter positioning, stance, and vulnerability now has an even greater effect on the impact of each strike, making every punch thrown an opportunity to finish the fight, or leave yourself open to a devastating counter blow.
Hyperrealistic Locomotion
Footwork is now at the forefront of tactical fighting in EA SPORTS UFC 3. New animations brought to life through RPM Tech replicate uninterrupted fighter movement. UFC fighters now move across the mat, close gaps, and manage distances with seamless fluidity.
Authentic Fighter Styles
The biggest stars in the UFC now move and feel exactly as they do in real life, thanks to replicated fighting personalities. From Conor McGregor's four-hit combo to Demetrius Johnson's strike-to-takedown combinations, UFC 3 now realizes the life-like tendencies of some of the biggest fighters of the UFC, allowing you to execute their most dangerous combinations.
Fluid Striking
Thousands of new strike animations mean that every strike can be thrown while maintaining fighter momentum, allowing you to circle your opponent while throwing a hook, hit them with a counter straight on the retreat, or pressure them against the cage with combinations. Every fighter in the game has a variety of strike combinations at their disposal, making them a weapon you can learn to master inside the Octagon. Strikes can also be thrown out of slips and lunges, or feinted by pressing the block button, allowing you to bait your opponent into making a mistake and creating strategic opportunities for devastating counter attacks.
Best-In-Class Visuals Get Better
New and improved fighter likenesses, flex intensity, and authentically replicated fighter celebrations make the best-looking sports game on the planet look even better in UFC 3.
G.O.A.T. Career Mode
EARN YOUR WAY TO THE UFC
Earn your way to the big show by starting your career in the World Fighting Alliance. Your performance there will determine your path to the UFC. Make an impression when Dana White comes looking for new talent and you'll quickly find yourself in the UFC ranks. Otherwise, more time in the WFA, or a stint on The Ultimate Fighter, might be required to hone your skills.
Once you sign your first UFC contract, your ability to accomplish the objectives set out for you determines the quality of your next contract. Better contracts means more cash, and more cash lets you unlock better training gyms where you can develop your fighter.
Choose from 10 unique training gyms, each with its own fighting discipline specialty, roster of real UFC training partners, and unique moves and perks for you to unlock. Gym loyalty can have its rewards, but to truly grow as a fighter, sometimes change is necessary.
PROMOTE YOUR FIGHTS AND BUILD RIVALRIES
Balancing your time between training to improve your performance, and promoting to increase your popularity, is integral to your success. Too much time spent growing your fan base can leave you outmatched inside the Octagon and being a gym rat can make you a winning fighter no one cares about. As you progress through your career new promotional opportunities will present themselves, or be thrust upon you as you become a star in the UFC. Every opportunity helps you gain fans and increase Fight Hype for your upcoming bout.
No matter what stage you're at in your UFC career, there is always someone looking to make their name by taking you out. These rivals will call you out through the new in-game social media system. Your responses affect your popularity and the growing hype for a fight in your future.
BECOME THE G. O. A. T.
From your initial fight in the World Fighting Allegiance to your first UFC title bout, your actions both inside and outside the Octagon will shape your career.
Along your journey to become the greatest of all time, the stories behind the biggest moments in your career are told through new in-game cinematics, including authentic UFC programs like "Bad Blood" and "UFC Minute" hosted by Megan Olivi. Experience the thrill of seeing yourself in your first UFC PPV promo and watch the confrontations at press conferences and weigh-ins between you and your biggest rivals.
In the new G.O.A.T. Career Mode, each and every choice you make will impact your legacy to become the greatest of all time.
Ultimate Team
Create Your Dream Team
Collect and customize real UFC fighters like Conor McGregor and Anderson Silva to build the ultimate team.
Improve Your Fighter Chemistry
Bolster individual fighters, or your entire team, when you pair specific moves that grant boosts for a strategic advantage.
Challenge Yourself
Jump into dynamically updated Solo Challenges to improve skills and unlock in-game rewards.