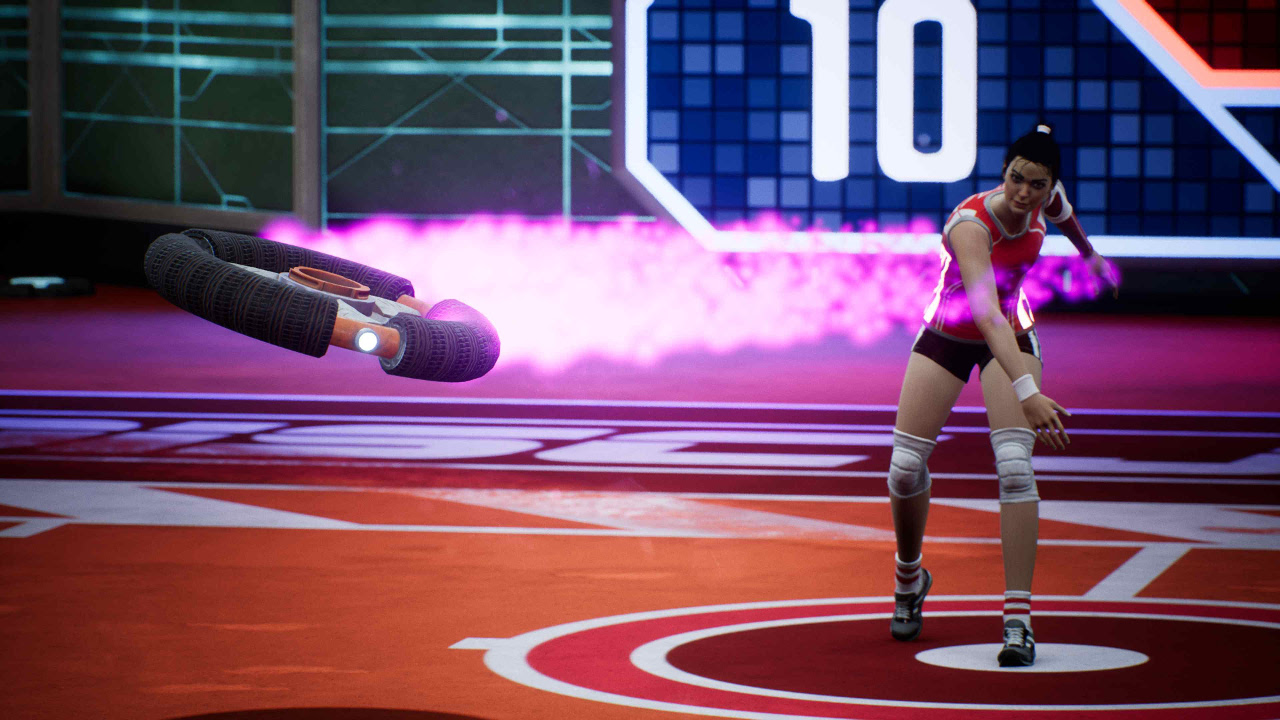 Nearly one year ago Disc Jam released on PlayStation 4 and PC and today marks another landmark for the game as it arrives on the Nintendo Switch. Disc Jam is probably best described as a combination of tennis and air hockey and is reminiscent of the 90's game Windjammers. It offers both local and online multiplayer matches in either 1v1 or 2v2 (co-op) form. Cross-platform online play is available between Switch players and PC players. Disc Jam can be downloaded digitally now on Switch for $15.
There's also significant new content on the way for all versions (Switch/PS4/PC). Online ranked leagues, an offline mode vs CPU opponents and a new character have been added. 
Multiplayer stability would be nothing without new ways to play and Disc Jam's biggest update yet has that in spades. Ranked Leagues offer up a haven for Disc Jam's competitive scene, pitting players against the best of the best as they climb the ranks of the Universal Federation of Disc, unlocking exclusive cosmetic items each season.

For gamers who prefer a solo experience, Ghost Arcade takes the intensity of Ranked Leagues offline, as players compete and rank up against a gauntlet of players downloaded from the leaderboards and digitally recreated as AI opponents. Reach the Elite tier in Ranked Leagues and you just may become the bot to beat in Ghost Arcade!

With more ways for players to challenge other Disc Jam competitors, it only makes sense to continue expanding the game's roster of jammers. Meet Lannie, a multi-talented Brazilian athlete who strikes the perfect balance between power and agility. If you're a fan of serving up blazing fast discs while still sliding around the arena with the best of them, she's for you.
While Disc Jam had some of the same qualities of the hit sensation Rocket League – and even launched in the same manner for free to PS+ subscribers – it hasn't been able to replicate its success in the year since but continues to show potential with this level of developer support. For more check out the review of Disc Jam from last March.