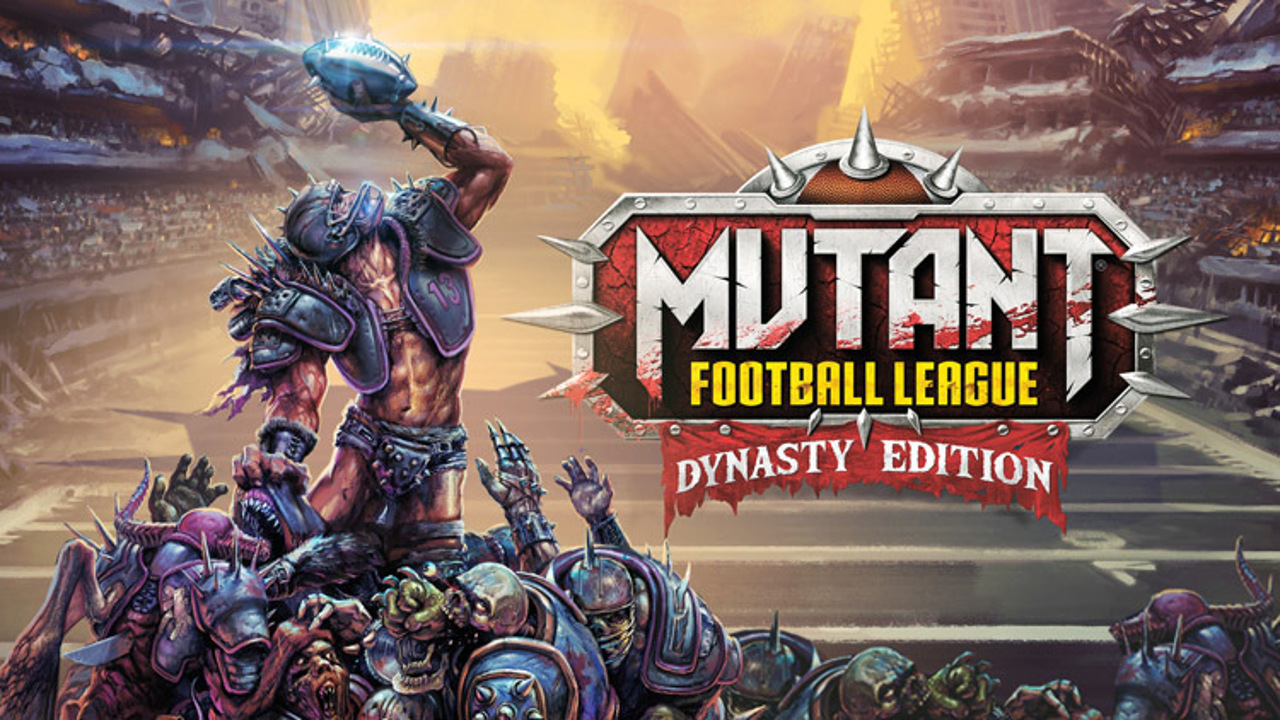 On this very day last year Mutant Football League released for PC following a multi-year saga around its creation. PlayStation 4 and Xbox One then had to wait a few months longer to get it. Now Mutant Football League, which had been available only as a digital download, is making its way into retail with the Dynasty Edition.
The Mutant Football League Dynasty Edition is being sold for $30 and marks the debut of the game on Nintendo Switch along with versions for PS4 and XB1. That's $5 more than the game was originally and $10 more than it's priced at in digital stores now. However it includes a great deal of extra content in addition to being a physical release found at retailers.
The big add to Mutant Football League comes in the form of its brand new Dynasty Mode (previously it only featured a Season Mode).
Multi-Season Gameplay: The overall goal of Dynasty Mode is to win multiple championships over several seasons to become the MFL's next Dynasty. You'll be given 3 seasons to build up your team's XP, playbook, & roster by winning games & completing player goals. If you succeed in competing in a Mayhem Bowl, you'll earn a contract extension & the chance to continue to become a Dynasty.

Player Trades & Free Agent Signings: Improve your roster with trades for top players on other teams, or use your team budget to sign free agents such as John Hellway, Peyote Maiming, & K.T. Mangler! Adding solid veterans to your squad will accelerate your chances of victory, but will cost you.

Cumulative Player XP: As you play games, win games, score touchdowns, & complete player goals, you'll earn experience points that you can assign to your players however you like. Create a dominating defensive team, a high-powered offensive team, or a perfectly balanced team that can do it all. Build up your team to fit your play style.

Custom Playbooks: You will be able to pick & choose the formations, plays, & Dirty Tricks in your playbook. When you defeat a team, MFL regulations state that they are required to provide their playbook & Dirty Tricks to you, so as your team gets better your playbook can expand, providing you more options to use on offense & defense.
Also in the Dynasty Edition are six new teams, two new species, two new stadiums, and more Dirty Tricks.
The Dynasty Pack DLC will also go out separately for $5 but free to consumers who already purchased Mutant Football League. Anyone who got the game originally through Kickstarter will be sent a code soon and those who have the game for PC through Steam will receive the DLC in the coming days. Owners on Xbox One and PlayStation 4 will have to wait however for the Thanksgiving Sale when it'll be accessible to download for free for a period of two weeks.
For its review Mutant Football League was found to be rough around the edges, but somewhat intentionally so, and offered a fair amount of enjoyment but maybe not the longevity one would have hoped for out of it. That could change due to additions being made to the game with the Dynasty Edition/the arrival of the DLC.