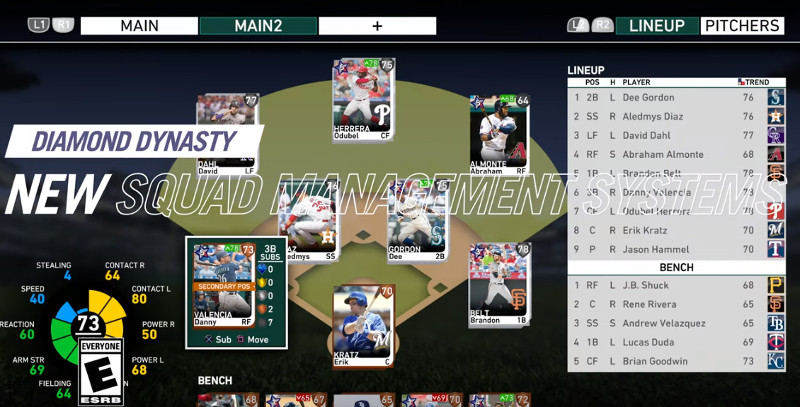 Late last month the new "Moments" mode within Diamond Dynasty was revealed. Now this week the developers are back to break down the rest of the additions and improvements to the team-building mode as a whole, which includes revamped Conquest, changes to rewards structure, new legends and various customization options.
New Conquest Map Configuration and Goals
This year, Conquest is getting a major overhaul. In Conquest mode, you battle your way through maps, playing strategic games to unlock prizes. In MLB The Show 19, we've added all new maps with new scenarios. Attack strongholds and steal fans from opposing teams. New Conquest challenges will require your sharpest skills and strategies to unlock more rewards than ever.
XP Reward Path
The Show 19 features an all new XP Reward Path. This means you can unlock excellent big-time rewards anywhere throughout the game. No matter what game mode you prefer, you can earn XP to use towards everything from Diamond players to special unlockable items.
Team Affinity
Being a die-hard fan of your favorite MLB team finally pays off. In the all-new Team Affinity section, you can earn rewards as you rack up innings with players from your favorite team. The more innings you play, the more team-specific rewards you'll earn.
Signature Series
Diamond Dynasty's next reveal is a big one: the Signature Series. Signature Series is a new set of rare and powerful unlockable players, taking Diamond Dynasty to new levels. Get ready to hunt down autographs to unlock all-time greats like Willie Mays. This is the new class of must-have players for your squad.
Bat Skins
We've added tons of new customizable gear options to deck out your team and players. All new bat skins featuring flames, diamonds, and dozens of other creative designs. Swing away in style and show off to your friends with the most customizable gear yet.
Ranked Seasons and Battle Royale Rewards
Diamond Dynasty is our most competitive game mode, and so we have something special for our most competitive elite players. Choice Packs are now a part of Ranked Seasons and Battle Royale rewards at the highest levels of Diamond Dynasty. Fierce competition yields the biggest rewards, so bring your best game to win more Choice Packs.