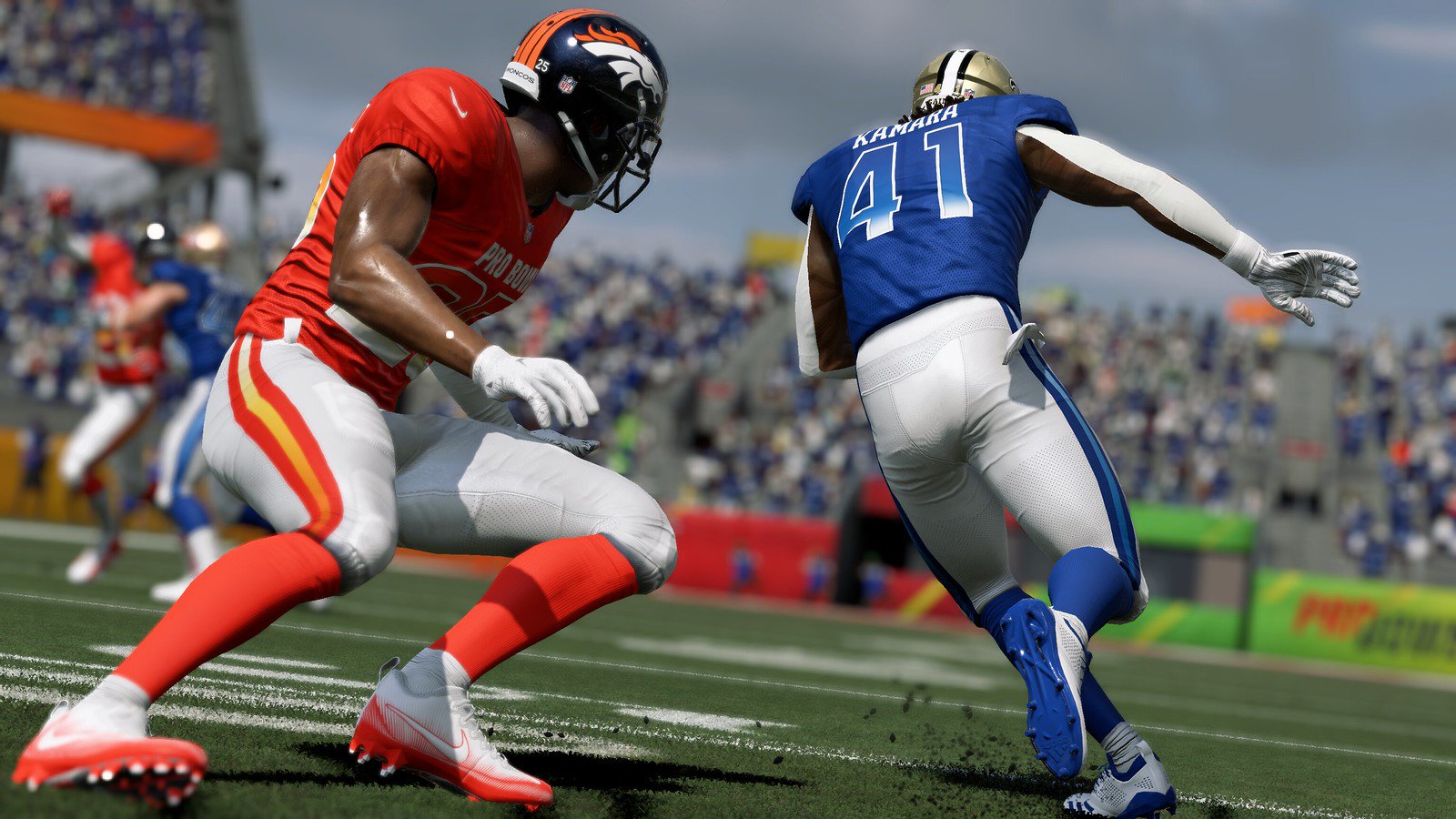 Last week EA Sports kicked off the promotional cycle for Madden NFL 20 with announcements focused on Patrick Mahomes and a rebooted Career Mode that includes a college football element. Now they've followed up with far more detail on what to expect out of Face of the Franchise: QB1 along with additions and improvements made to Franchise Mode.
Face of the Franchise
PREPARING FOR THE PROS
When talking and listening to players, we kept hearing that being a star of their own football story would be fantastic. With that in mind, we crafted Face of the Franchise: QB1, where the story is not only about you, but one where the choices you make matter.
It kicks off with creating yourself as a quarterback – even using "face editing" to get an improved likeness. Once you have your player, you begin in college, choosing from top schools to attend, then competing for a national championship in the college football playoffs. Be the BMOC and take home the title, but bring your A-game, because your performance in college – just like on the real collegiate gridiron – has an impact on your capabilities and your draft stock.
The NFL draft doesn't just happen, though – the combine comes first. Ever-increasing in importance and scrutinization, the combine is a key part of the process. And here, if you want your stock to soar, you'll need to focus on every rep and decision you make to keep your name rising on draft boards. Where will you get picked, and where will your NFL career start? You'll find out on draft day!
IN THE LEAGUE
No matter where you get drafted – from first round to last – once a team picks you, you're going to have to show you belong playing with the pros. Whether you're a first-rounder who needs to prove you were the perfect high pick, or a seventh-rounder busting your ass to make the roster, if you want success you have to work hard and make each opportunity count.
In the NFL, start building your legacy and taking your franchise to winning seasons, expanding your legend with each snap. It's not about the cash your contracts rack up, but about how many Super Bowls you win as your legend grows. Give your all – and have fun – as you play your way into memorable moments. When you celebrate your career at the end, will you be remembered among the greats, placed alongside them in the Hall of Fame?
As you live your superstar story, Madden's new Scenario Engine generates personalized playable scenarios, events, and dynamic challenges that tell the tale of a unique NFL career. Adding to it, in Face of the Franchise: QB1, like in Franchise mode, you choose your Archetype: Strong Arm, Scrambler, Improviser, Field General. Superstar abilities are tied to the Archetype you pick. Levelling up your archetypes unlocks different abilities.
Franchise Mode
Pro Bowl Returns to Madden NFL 20
The first thing you'll see while Madden NFL 20 sets up is the Pro Bowl. You can play the pro bowl while the game installs, and you will also have the opportunity to qualify for the Pro Bowl during your Franchise seasons. It's another opportunity to gain valuable experience and add to your Legacy.
Ratings Spread
We've adjusted the range of ratings that you'll see on players.
♦The ratings difference between a 90 OVR player and an 89 OVR player is now larger
♦Each skill point you spend will be more impactful, and you can earn more skill points over the course of a career
♦In some cases, you will now see a starter with an OVR in the mid-50s.
New Scenarios
We've added an all-new in-game system that generates personalized playable scenarios featuring interactions with characters via a variety of ways including branching dialogue, dynamic events that reflect your performance and choices, challenges that build the story of your unique NFL career (from the moment you sign your rookie contract to you Hall of Fame induction), and more.
Development Traits
We've made large updates to our Development Trait system to support Superstar and Zone abilities. The Development Traits in Madden 20 are: Normal, Star, Superstar, and Superstar X-Factor. Both Superstar and X-Factors players can earn Superstar Abilities, but only X-Factors can earn Zone Abilities. We've also addressed one of the communities' biggest complaints: players dropping down in Development Trait. In Madden 20, players can no longer go down in Development Trait at the end of a season.
Coach Mode
Coach mode is also getting scenarios. And the changes to Development Traits have a big impact on Coach mode. Coaches will want to build up their teams with Superstars and X-Factor Superstars via Trades, free agency, and the draft. We've also added an overhauled lineup UI to make Franchise mode even smoother.
Contract Updates
We've taken a meticulous pass on existing player contracts to ensure they match the NFL. This will not only be more authentic, but it will also make managing your roster's cap space more realistic.
Progression Updates
We've overhauled our progression tuning, including making changes to XP gains from weekly training, actions on the field, and goal completion. These changes should ultimately lead to users being able to increase the OVR of more players on their team meaning they have more option in how to develop their roster.
Draft Updates
We've taken a full pass on our Rookie Generators. People familiar with draft classes from the past few years are in for some new surprises, from names, to bodies, to ratings, and more.
One more draft surprise is that rookies with a Superstar Development or higher trait will have their development trait hidden until they've played through at least half of a season. These players have their abilities hidden until you reveal their Development Trait. This means that if you draft either a Superstar or an X-Factor Superstar you won't know exactly what you've drafted until later in a season – use your preseason wisely.