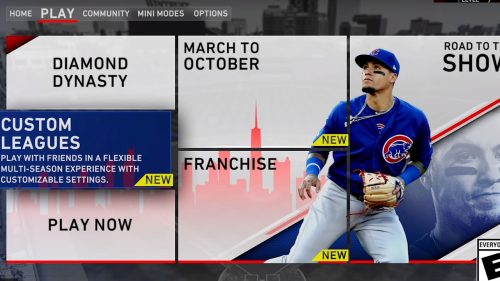 This week of promotion for MLB The Show 20 centered on the new (Online) Custom Leagues mode. While it appears to be intended as a substitute for Online Franchise it isn't remotely a feature-for-feature replacement and there are still unanswered questions – even after multiple teases a blog and a full stream – that will heavily impact how widely adapted and ultimately how successful it may become. Its simplicity could prove to be a draw for some but the lack of depth and possible exclusion of CPU teams could limit the potential for those seeking something more beyond just a brief competitive run against friends.

Competitive or Relaxed Atmosphere
Whether you enjoy fierce competition or something a little more relaxed, there is a league for you. Commissioners can flag their league atmosphere as "Relaxed" or "Competitive" so that you can find the most enjoyable League that matches what you want.
Choice of 40-Man Live MLB Rosters or Diamond Dynasty Collection
The 40-Man Live MLB Leagues use the 40-man rosters of all 30 teams that are updated frequently throughout the year. If you're not happy with your current roster, try making some trades!
Diamond Dynasty Collection Leagues allows you to use your entire Diamond Dynasty Collection of player items to build your lineup. Commissioners can even set restrictions on team overalls to keep things even.
Season long format with Postseason
All Leagues offer a Regular Season experience that builds to a Postseason Playoff bracket ending with the World Series. If you didn't make the Postseason cutoff this season, don't sweat it. With no limit on the amount of seasons your league can play, there's always "next year."
Regular Season length is determined during the creation phase of the Custom League by how many teams are in the League and how many times you play each team (1, 3, 5, or 7).
Flexible schedule
Flexibility is important when coordinating online play. With Custom Leagues' flexible schedule, you can play your Regular Season games in any order. If your opponent is online, you can knock out those games right now! No calendar generation needed.