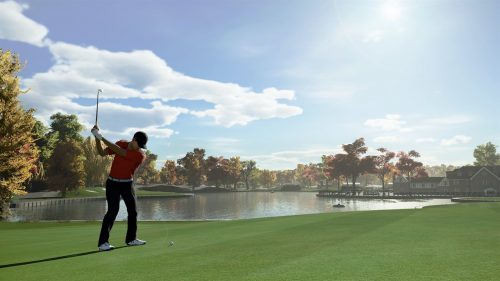 The fourth entry in the series previously known as The Golf Club is certain to get increased exposure due to the rebranding to PGA Tour 2K21 and the marketing might provided by publisher 2K Sports. Overlooked by some and arguably underrated in the past by others, this latest iteration won't seem dramatically different to those who are familiar with The Golf Club but does deliver a more welcoming experience for newcomers and those who may not find themselves improving at a rapid pace.
PGA Tour 2K21 remains a strict "simulation" representation of the sport of golf. That can at times feel overwhelming and punishing. It's something that been a criticism of the previous titles – though there is a significant segment of golf fans who appreciate the game being that authentic and it's largely why it proved to be popular amongst them. Despite that the opportunity to be more friendly and accommodating for others remained and that's where 2K21 shows some real growth.
The game feels more forgiving than its predecessors, though it can still be taken to an extreme at higher difficulty levels. From the start with the tutorials, to an updated look and clearer understanding that comes with the various swing meters, plus the different types of practice options they all contribute to a cushion for those struggling and a springboard for those on the way up.
The characters utilized in PGA Tour 2K21, as was the case in The Golf Club, are those that are created and they carry with them no personal attributes. All golfers are the same skill wise. The only differentiation comes in personal skill level with the game and the selection of clubs. This may in turn be the reason behind why the pro golfers featured in the game are not playable.
Gameplay remains largely consistent and realistic. Combined with very good visuals, serene music, and a new commentary team PGA Tour 2K21 feels like exactly what you would want out of a golf game.
There are still swings that register as "Perfect" in all respects that inexplicably go wild. This seems to happen once or twice a round in my experience. The biggest problem I have faced however is that nearly all my swings are considered "Fast" which leads to everything hooking. Even after recognizing this was a flaw in my game I've been unable to consistently adjust and find the timing sweet spot.
The "Swing Calibration" option did not seem help much if at all. It also seemed as though maybe my controller stick was offset to the right which again the calibration did not address. Going straight up and down on putts almost always ended up on the right side of the meter so I began compensating by aiming more to the left when putting.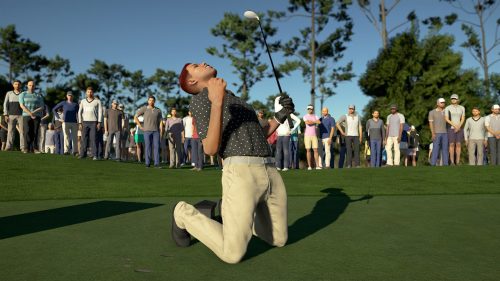 Career Mode isn't doing anything unexpected with its structure. What is the most notable is the addition of 12 licensed pros and how that affects the tournaments. The Golf Club 2019 introduced the PGA Tour license and six real-life courses while 2K21 is stepping that number up to 15 alongside the introduction of the pros.
The first time there was a cut-in to see a shot from one of the licensed pros playing in the tournament was exciting. It showed a major way in which they could be used effectively and added a sense of unpredictability to what was going on around my golfer. The names of other real life pros will appear on the leaderboard but only the 12 licensed golfers can be shown in this manner.
Unfortunately as I saw more – and in some situations didn't see any – it became apparent that the potential wasn't being fully realized.
Those cut-ins happen a number of times in the first round (3-5 was typical) but in later rounds including the final round there would generally be fewer. Sometimes none at all. Furthermore the relevance of the ones shown was questionable at best. More often than not it would be someone who wasn't actively competing with my score or even battling for the lead. Instead they were several shots back making or missing a long putt or a chip shot and I started to skip them.
It was also important to see how this would factor in as tournaments came to a close. If you were battling for the win, lets say behind or up by a stroke in a battle with Justin Thomas or Kevin Kisner, going into the final holes of a tournament you'd naturally expect to see updates on them. It didn't happen. Neither did anything show up when in the clubhouse tied and dying to see how things would play out. You're left blind in those situations and just learn of the results from the leaderboard.
Those who would be concerned about the impact of in-game currency will be relieved to know that it actually doesn't play a detrimental role in PGA Tour 2K21. Currency is given out at a healthy rate as events are completed and new levels are achieved. The earned XP is accompanied by item unlocks as well.
Ultimately everything cosmetic, and the clubs themselves, feel like voluntary purchases rather than necessary ones and anything desired can be easily acquired just by playing the game regularly.
One of the biggest changes for 2K21 is with the clubs carrying their own attributes. Past titles have instead offered three different levels of club which could boost performance with greater potential distance at a cost of decreasing margin of error. Now you can further tailor club selection as each carries with it a rating in five different categories.
This is an good way to provide some sense of personalization and is a new element of strategy to be considered however it may be difficult to determine what is the best club for your own use. It would have been helpful to allow the clubs to be tested out on the driving range before committing to a purchase. I felt lost looking through the options and had no idea what attributes to target and which ones to sacrifice for my style of play and skill level. Expert players may have an understanding of how to best utilize the different club options but others probably will not.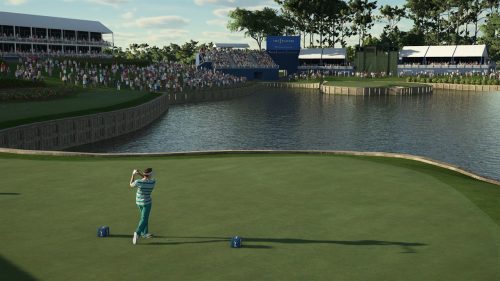 The well-regarded Course Creator returns with the ability to transfer creations from The Golf Club 2019 over. That, along with the feature's continued presence and an active community, ensures PGA Tour 2K21 will have a great variety of courses ready for release with countless more that will prove worthy throughout its lifespan.
The Online Society mode is not new, and appears to be unchanged, but is still a great way to bring together groups of players in extended competition. Introducing real stakes along with the social element of competing with others is engaging for all those involved and effective at stoking replayability. The direct head-to-head in the form of turn-based play that can involve up to four players features a variety of scoring methods that includes the ability to involve up to four players in regular Stroke Play, Skins, Four Ball, and Scramble among others.
PGA Tour 2K21 appears to be right on the cusp of greatness. The improvements over The Golf Club 2019 may appear nominal on the surface but what's there is a showcase of how the series could reach that status – by injecting dramatic moments into tournaments, aided by enhanced presentation and increased presence of licensed golfers and courses.