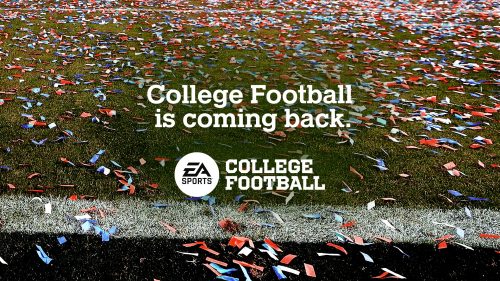 A nearly eight year stretch with no licensed college football video games will be coming to an end in the near future. EA Sports today announced college football is making its return.
Notable in the news is the absence of NCAA in the name which was also going to occur when the publisher planned a follow-up to NCAA Football 14. The game can survive the absence of NCAA, which is really just branding, but when schools and conferences threatened to pull out the series was unable to survive.
"Development of EA SPORTS College Football is just underway, with launch timing still to come as the project progresses in the years ahead."
We're looking at a few years still until things materialize, with College Football 23 or more likely 24, and that should put things into position where players will be paid for their likenesses to be in the game. Accurate true-to-life rosters that will be updated each year with potential roster updates during the season too. However before that can happen NIL laws need to be passed and a player's union formed. For now EA is saying the rosters will be generic as they can't comment on that possibility at this stage.
"Through the CLC partnership, the franchise will include the rights to more than 100 institutions featuring the logos, stadiums, uniforms, gameday traditions and more that fans have come to know and love."
This statement suggests that the game will be missing some teams. There are currently 130 FBS programs. NCAA Football 14 had all 126 teams at the time.
This is exciting news for everyone who has suffered over this stretch with the absence of college football gaming. Other than it being official that it's happening though there isn't a whole lot to go on yet, and it was always anticipated that it would when legally players would be able to be paid. The main takeaway for now is that EA has started developing the game and will release it regardless of whether they have the players on board or not.