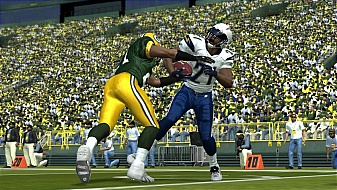 The roster update that was expected to be released for the 360 and PS3 versions of Madden 08 is now available. In order to receive the new roster file, you need to start a ranked online game. It will prompt a download of the latest rosters which can then be saved over the previous online roster set and used offline as well.
The hottest topic surrounding this update was how Michael Vick would be dealt with. EA has moved him down the depth chart. He is not in the three slots alloted to the QB position. However he is still in the game and on the Falcons roster, which means those who wish to continue using him will be able to do so by moving him in prior to an online game or by editing the depth chart themselves for offline play. His rating has not been changed, he is still a 90 OVR.
Continue on to read every single transaction, rating adjustment, and contract extension that was made with the roster update.
Also, roster update details for each one that is released throughout the year can be found here.
Roster Update #1 – Next Gen

Transactions
DT Darwin Walker – Traded to Bears
SS Chris Harris – Traded to Panthers
LB Odell Thurman – Removed (Suspended)
LT Tarik Glenn – Removed (Retires)
SS Mike Minter – Removed (Retires)
TE Erik Beverly – Removed (Retires)
S Mike Minter – Removed (Retires)
LB Shelton Quarles – Removed (Retires)
LT Jared Gaither – Drafted by Ravens (Supplemental Draft)
CB Paul Oliver – Drafted by Chargers (Supplemental Draft)
LB Robert Reynolds – Released by Titans
HB Cedric Houston – Released by Jets
WR Darius Watts – Released by Giants
WR Keenan McCardell – Signed to Texans
WR Eric Moulds – Signed to Titans
S Sam Brandon – Released by Broncos
S Jarrod Cooper – Released by Raiders
T Kyle Turley – Signed to Chiefs
HB Shawn Bryson – Released by Lions
DE Simeon Rice – Released by Bucs
G Milford Brown – Signed to Rams
WR Fred Gibson – Released by Falcons
T Kevin Barry – Signed to Texans
TE Courtney Anderson – Signed to Dolphins
HB Tony Fisher – Released by Jets
TE Randal Williams – Released by Raiders
HB ReShard Lee – Released by Raiders
CB Mike Rumph – Released by Rams
WR Chris Hannon – Added to Chiefs
T Ed Blanton – Released by Jets
G Toniu Fonoti – Released by Falcons
DT Corey Simon – Released by Colts
QB John Navarre – Released by Colts
DT Fred Evans – Released by Dolphins
TE Bobby Blizzard – Signed to Bengals
TE Ronnie Ghent – Released by Bengals
WR Bethel Johnson – Signed to Texans
QB J.T. O'Sullivan – Added to Lions
TE Troy Bienemann – Added to Cardinals
WR Kelly Campbell – Released by Dolphins
WR Brandon Williams – Added to 49ers
CB Rich Gardner – Released by Seahawks
SS Donovin Darius – Signed to Raiders
WR Troy Brown – Signed to Patriots
C Adam Treu – Released by Raiders
DT Jordan Carstens – Released by Panthers
CB Greg Brooks – Released by Bengals
WR Corey Bradford – Signed to Redskins
G Wes Sims – Released by Saints
QB Daunte Culpepper – Signed by Raiders
HB Jamal Robertson – Released by Falcons
The players released will appear in Free Agents
Ratings Up
DE Mark Anderson – 84 to 85 OVR
WR Devin Hester – 70 to 72 OVR
LB Landon Johnson – 80 to 83 OVR
LB Ahmad Brooks – 78 to 80 OVR
CB Johnathan Joseph – 82 to 84 OVR
T Erik Pears – 74 to 79 OVR
LB DD Lewis – 78 to 82 OVR
WR Maurice Stovall – 78 to 79 OVR
T Mike Gandy – 74 to 80 OVR
QB Cleo Lemon – 72 to 75 OVR
LB David Harris – 76 to 77 OVR
CB Stanley Wilson – 77 to 79 OVR
TE Darnell Sanders – 69 to 74 OVR
QB JT O'Sullivan – 68 to 74 OVR
S Nate Salley – 70 to 77 OVR
TE Jeff King – 70 to 77 OVR
TE David Thomas – 73 to 77 OVR
C Jeremy Newberry – 80 to 83 OVR
WR Jerry Porter – 80 to 81 OVR
WR Ronald Curry – 78 to 79 OVR
TE Tony Stewart – 71 to 74 OVR
WR Demetrius Williams – 70 to 75 OVR
S Vernon Fox – 72 to 76 OVR
LB Mark Simoneau – 76 to 82 OVR
DE Ray Edwards – 74 to 79 OVR
T John Tait – 91 to 92 OVR
TE Greg Olsen – 79 to 80 OVR
G Stacy Andrews – 74 to 76 OVR
WR Tab Perry – 72 to 73 OVR
HB Dwayne Wright – 71 to 72 OVR
T Jason Peters – 87 to 91 OVR
QB JP Losman – 82 to 83 OVR
LB Louis Green – 60 to 65 OVR
WR Tim Carter – 69 to 72 OVR
DE Greg Spires – 80 to 84 OVR
TE Alex Smith – 79 to 80 OVR
S Aaron Francisco – 73 to 76 OVR
LB Matt Wilhelm – 72 to 75 OVR
LB Stephen Cooper – 72 to 74 OVR
S Jarrad Page – 72 to 74 OVR
QB Brodie Croyle – 77 to 78 OVR
G Ryan Lilja – 85 to 87 OVR
G Jake Scott – 85 to 88 OVR
T Ryan Diem – 89 to 91 OVR
FB Oliver Hoyte – 77 to 79 OVR
DE Trent Cole – 81 to 82 OVR
TE Vernon Davis – 86 to 88 OVR
S James Butler – 69 to 77 OVR
WR Steve Smith – 74 to 75 OVR
TE Marcedes Lewis – 79 to 80 OVR
DE Stanley McClover – 73 to 76 OVR
WR Lance Moore – 59 to 65 OVR
HB Travis Henry – 87 to 88 OVR
QB Jason Campbell – 81 to 82 OVR
Ratings Down
C LeCharles Bentley – 90 to 87 OVR
QB Trent Green – 85 to 84 OVR
LB Eric Barton – 83 to 80 OVR
CB Travis Fisher – 78 to 77 OVR
P Jon Ryan – 84 to 81 OVR
S Stuart Schweigert – 85 to 84 OVR
LB Brian Simmons – 83 to 81 OVR
CB Deltha O'Neal – 85 to 84 OVR
G Matt Lehr – 85 to 82 OVR
QB Damon Huard – 82 to 80 OVR
G John Welbourn – 85 to 82 OVR
S Jason Allen – 80 to 78 OVR
DE Darren Howard – 86 to 85 OVR
CB Patrick Surtain – 93 to 92 OVR
Contract Extensions
Rookie contracts have been updated
Grady Jackson
Dwight Freeney
Cory Redding
Troy Polamalu
Charles Tillman
Nathan Vasher
Marc Bulger
Darwin Walker
Donald Driver
Montrae Holland
Steve Smith
Brian Moorman