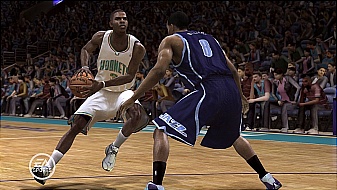 A new preview of NBA Live 08 has been posted by 1up. While it is very brief it does contain some impressions on the Hot Spots feature and reiterates the thoughts I had on it.
Hot Spots for each shooter are accessible with the press of a bumper, but the problem is that there's no subtlety — since they're glaringly obvious, your defenders also know where your hot spots are. We dig NBA 2K8's treatment of hot spots better (a tiny meter shows you when you go to one on the court).
Going back to my full impressions of the Hot Spots feature this was my issue with it. While the logic behind creating 14 shooting ratings based on the location is right on and it did not create problems such as being too effective in the red zones, the visual representation of it was dominant and negatively affected the immersion of the game. I mentioned that in head-to-head games if your opponent pulled up their Hot Spots you knew they were thinking about shooting with the particular player they were controlling, heading towards a red section, or likely both.
It does sound like 2K8's visual display will be the preferable one, however we don't know yet if it will be as balanced and realistic in terms of execution as Live's is. However the same issue with the visual addition affecting play exists with 2K8 only in a different way. Instead of pulling up the zones and heading towards them, now users may just run around until they stumble upon them. On the plus side though it is much better for head-to head play.
The concept behind adding in all the ratings is a good one, however the visual aids should go. They're appropriate for practice mode and maybe viewing during timeouts. I also would be okay with them being on in the lower difficulty settings. Whether it be colored sections of the court or cell phone reception bars they come across gimmicky and change the way people will play the game as they'll be consciously seeking out the hot areas instead of working to get open shots naturally.
Continue on to read my thoughts on the new NBA Live leagues.
Another topic is the online leagues in Live. After finding out some of the details there has been some negative reaction to them, although overall most are satisfied that at least EA is attempting to improve their online experience with upcoming releases such as Live, NHL 08, and FIFA 08.
As detailed previously there are certain restrictions on the leagues such that they can't really be seen as leagues that many have become accustomed to. There can be 2-32 teams involved. However the same teams can be used, there are only 1-11 game seasons, there is no set schedule, no trading players, and in all likelihood no tracking of player stats. There has been no mention of a website for the leagues either. One thing that hasn't been touched on is how playoffs are handled and the reason could be that there are no playoffs. Hopefully that can be cleared up soon.
As someone who has run probably 25 or so leagues over the past several years there are certain aspects of this system that I like, and others that I don't. First I appreciate open systems so not having concrete scheduling is a positive thing. I have learned that the best way to keep owners interested is to take the stress out of playing in a league. They should be fun. And scheduling times to meet up only to have your opponent no show, waiting for owners who quit to be replaced, or being forced to wait for other owners to complete a "week" before you can play again is far from being fun.
This goes along with users getting their favorite teams. Rare enough is it to have solid owners who will keep playing through losing with their favorite teams. Stick them with a team they have no attachment to and the attempt is going to be futile. Again, for most people it's not fun to be forced to use a team they don't want.
With 2K's league systems (when actually working) you'd be hard pressed to find more than a handful of traditional leagues that had run successfully to completion. It is tough enough to finish a league with a group of people you're familiar with and communicate with on a regular basis. When you get into playing with randoms you can pretty much guarantee the league is going to crumble. At least with the open system there is a shot to have them go the distance.
However despite the open scheduling, they went and made other aspects curiously restrictive. Only allowing up to 11 games isn't going to appease the hardcore fans who may actually be able to run a normal league to completion. If there are no playoffs, once someone loses a few games they'll just stop playing.
Until we can find out more details, I'd consider the "online leagues" to be more of a glorified tournament. As soon as I can find out more or get the opportunity to try it out I'll pass along my impressions.
Update: I have received more details on the league setup. You can check them out here.