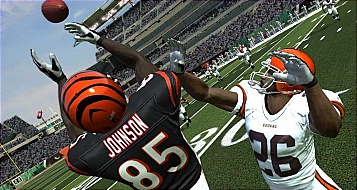 Here is a complete list of all the changes that have taken place with the latest roster update that was released for Madden 08 early on 9/7.
Details on all roster updates released throughout the year can be found here.
Click through to read all the changes (there are a lot).
September 7th
Roster Update – Next Gen
Bears
Added CB Trumaine McBride
Added CB Corey Graham
Released QB Chris Leak
DE Ban Bazuin placed on IR
Bengals
Added SS Nedu Ndukwe
Added TE Daniel Coats
Added QB Ryan Fitzpatrick (traded from Rams)
Released QB Doug Johnson
Added MLB Anthony Schlegel
Released LB Ed Hartwell
Added LB Lemar Marshall
Released DT Kenderick Allen
Bills
Released QB Craig Nall
Released TE Brad Cieslak
Released HB Shaud Williams
Added HB Josh Scobey
Broncos
Added DT Amon Gordon
Released DT Jimmy Kennedy
Added DE Simeon Rice
Added FS Hamza Abdullah
Added FB Paul Smith
Released FB Kyle Johnson
Added LB Wesly Mallard
Added WR Brian Clark
Added WR Domenik Hixon
Released WR David Kircus
Released FS Quentin Harris
Released WR Quincy Morgan
Browns
Released DT Babatunde Oshinowo
Released WR Syndric Steptoe
Released HB Chris Barclay
Bucs
Added CB Anthony Madison
Released CB Alan Zemaitis
Added DT Jovan Haye
Added DT Greg Peterson
Released DT Ellis Wyms
Released HB Kenneth Darby
Added MLB Jeremiah Trotter
Added QB Luke McNown
Added LB Adam Hayward
Added RT Chris Denman
Released LB Jamie Winborn
Released WR Mark Jones
Cardinals
Added DE Chris Cooper
Added DE Quentin Moses
Added S Oliver Celestin
Added TE Tim Euhus
Released TE Ben Patrick
Released WR LeRon McCoy
Released WR Michael Spurlock
Released LB Buster Davis
Chargers
Added LT Jeromey Clary
Added LB Tim Dobbins
Released S Bhawoh Jue
Released T Cory Lekkerkerker
Released WR Greg Camarillo
Chiefs
Added CB Dimitri Patterson
Added CB Tyron Brackenridge
Added CB Rashad Barksdale
Added QB Tyler Thigpen
Released QB Casey Printers
Released WR Chris Hannon
Released LB Rich Scanlon
Released DE Michael Heard
Colts
Added CB Michael Coe
Added LT Daniel Federkeil
Added LB Clint Session
Released HB Clifton Dawson
Released DE Bo Schobel
Released DE Ryan LaCasse
Cowboys
Released CB Aaron Glenn
Released S Abram Elam
Added LB Justin Rogers
Added FB Deon Anderson
Released FB Lousaka Polite
Released TE Adam Bergen
Dolphins
Added C Gene Mruczkowski
Added MLB Kelvin Smith
Added T Cory Lekkerkerker
Added WR Greg Camarillo
Released TE Courtney Anderson
Released LB Robert McCune
Released WR P.K. Sam
Released WR Az-Zahir Hakim
Released FB Cory Schlesinger
Eagles
Added DT Kimo von Oelhoffen
Added FS J.R. Reed
Added MLB Pago Togafau
Added P Saverio Rocca
Released CB Rashad Barksdale
Released WR Jeremy Bloom
Released FS C.J. Gaddis
Falcons
Added DT Montavious Stanley
Added DT Trey Lewis
Added HB Artose Pinner
Released G P.J. Alexander
Released CB Allen Rossum
Released DE Paul Carrington
Removed QB Michael Vick (Suspended)
49ers
Added CB Tarell Brown
Released DT Sam Rayburn
Released WR Bryan Gilmore
Giants
Added FS Michael Johnson
Added G Kevin Boothe
Added S Craig Dahl
Added WR Anthony Mix
Jaguars
Released FB Derrick Wimbush
Released CB Dee Webb
Removed HB Alvin Pearman (Traded to Seahawks)
Added DE Brian Smith
Removed QB Brian Leftwich
Added G Tutan Reyes
Added LB Brian Iwuh
Added S Chad Nkang
Added WR John Broussard
Added CB Aaron Glenn
Released S Josh Gattis
Released WR Charles Sharon
Jets
Added HB Danny Ware
Released DE Bobby Hamilton
Released DT Kimo von Oelfoffen
Released MLB Anthony Schlegel
Lions
Added FB Jon Bradley
Added S Eric Frampton
Added LB Johnny Baldwin
Added TE Sean McHugh
Released CB A.J. Davis
Released LB Donte Curry
Released CB Ramzee Robinson
Released DT Cleveland Pinkney
Released TE Darnell Sanders
Packers
Released CB Patrick Dendy
Released FB Brandon Miree
Added S Charlie Peprah
Added DT Johnny Jolly
Added LB Desmond Bishop
Released WR David Clowney
Released S Marquand Manuel
Released K Dave Rayner
Released TE Clark Harris
Panthers
Added CB Dante Wesley
Added HB Alex Haynes
Released HB Eric Shelton
Added LB James Anderson
Added S Marquand Manuel
Added WR Chris Hannon
Released WR Chris Horn
Released DE Dave Ball
Released D'Anthony Batiste
Released CB Christian Morton
Released S CJ Wilson
Patriots
Added T Wesley Britt
Added T Clint Oldenburg
Added LB Oscar Lua
Added P Chris Hanson
Released WR Reche Caldwell
Released TE Garrett Mills
Released CB Dante Wesley
Released LB Justin Rogers
Raiders
Added Gerard Warren (Traded from Broncos)
Added FB Oren O'Neal
Released FB Zach Crockett
Released S Donovin Darius
Added DE Chris Clemons
Added DE Jay Richardson
Released G Kevin Boothe
Released WR Alvis Whitted
Rams
Released C Dustin Fry
Released DT Keith Jackson
Added DT Cliff Ryan
Added HB Antonio Pittman
Added LB Tim McGarigle
Removed QB Ryan Fitzpatrick (Traded to Bengals)
Added TE Aaron Walker
Released LB Jon Alston
Ravens
Added WR Devard Darling
Released WR Clarence Moore
Redskins
Added S Reed Doughty
Added TE Tyler Ecker
Released QB Jordan Palmer
Released WR Corey Bradford
Saints
Added DT Antwan Lake
Released HB Antonio Pittman
Added LB Alfred Fincher
Added LB Marvin Mitchell
Released P Chris Hanson
Added TE Ronnie Ghent
Added WR Lance Moore
Seahawks
Released QB David Greene
Added DE Jason Babin (Traded from Texans)
Removed S Michael Boulware (Traded to Texans)
Added T Steve Vallos
Released CB Pete Hunter
Steelers
Released HB Verron Haynes
Released C Chukky Okobi
Released LB Rian Wallace
Added HB Gary Russell
Added HB Carey Davis
Added DE Nick Eason
Titans
Added DT Tony Brown
Released WR Jonathan Orr
Released WR Courtney Roby
Released QB Tim Rattay
Released S Lamont Thompson
Released S Bryan Scott
Added S Calvin Lowry
Vikings
Added DT Fred Evans
Released QB Tyler Thigpen
Added QB Kelly Holcomb (Traded from Eagles)
Added TE Garrett Mills
Released S Greg Blue
Released HB Ciatrick Fason
Released WR Billy McMullen
Released HB Artose Pinner
Texans
Removed DE Jason Babin (Traded to Seahawks)
Added S Michael Boulware (Traded from Seahawks)
Released WR David Anderson
Released WR Bethel Johnson
Released CB Dexter McCleon
Released WR Keenan McCardell
Released HB Wali Lundy
Added CB Dexter Wynn
Added FB Jameel Cook
Added DE Earl Cochran
Ratings Up
HB Jerome Harrison – 74 to 77 OVR
TE Marcedes Lewis – 80 to 81 OVR
WR James Jones – 72 to 75 OVR
QB Aaron Rodgers – 76 to 79 OVR
WR Jacoby Jones – 69 to 73 OVR
QB Tarvaris Jackson – 76 to 77 OVR
HB Jesse Chatman – 73 to 77 OVR
WR Lance Moore – 65 to 71 OVR
WR Terrance Copper – 70 to 76 OVR
WR David Patten – 69 to 75 OVR
WR Marques Hagans – 67 to 69 OVR
H.B. Blades – 66 to 70 OVR
DE Patrick Chukwurah – 70 to 77 OVR
CB Trumaine McBride – 68 to 70 OVR
LB John DiGiorgio – 63 to 67 OVR
HB Cecil Sapp – 73 to 75 OVR
DE John Engelberger – 76 to 81 OVR
HB Adrian Peterson – 85 to 87 OVR
WR Calvin Johnson – 87 to 88 OVR
DE Jimmy Wilkerson – 75 to 79 OVR
DT Tank Tyler – 73 to 76 OVR
HB Noah Herron – 73 to 75 OVR
DT Kendrick Clancy – 75 to 79 OVR
LB Omar Gaither – 78 to 81 OVR
CB Eric Green – 75 to 78 OVR
LB Calvin Pace – 69 to 70 OVR
HB Darren Sproles – 76 to 77 OVR
SS Clinton Hart – 70 to 73 OVR
WR Vincent Jackson – 79 to 81 OVR
S Jarrad Page – 74 to 76 OVR
S Bernard Pollard – 80 to 81 OVR
T Will Svitek – 67 to 70 OVR
DE Darryl Tapp – 77 to 79 OVR
S James Butler – 76 to 79 OVR
WR Ben Obomanu – 61 to 68 OVR
CB Fred Thomas – 76 to 77 OVR
FB Ovie Mughelli – 91 to 92 OVR
CB Chris Carr – 58 to 65 OVR
DT Terdell Sands – 82 to 85 OVR
TE Donald Lee – 74 to 77 OVR
WR Dennis Northcutt – 74 to 77 OVR
HB Derrick Ward – 68 to 72 OVR
WR Taylor Jacobs – 68 to 75 OVR
WR Bryan Gilmore – 69 to 71 OVR
QB Joey Harrington – 76 to 79 OVR
WR Jason Avant – 68 to 70 OVR
CB Travis Daniels – 77 to 79 OVR
LB Kevin Burnett – 75 to 77 OVR
Ratings Down
QB Bruce Gradkowski – 72 to 70 OVR
G Dan Buenning – 85 to 80 OVR
FB Brandon Miree – 80 to 76 OVR
DE Bryce Fisher – 84 to 80 OVR
S Will Demps – 84 to 81 OVR
WR Robert Meachem – 77 to 73 OVR
CB Usama Young – 74 to 71 OVR
CB Jason David – 80 to 77 OVR
DT Justin Harrell – 80 to 78 OVR
DeAngelo Hall – 94 to 92 OVR
CB John Bowie – 68 to 66 OVR
FB Zach Crockett – 82 to 80 OVR
WR Dwayne Jarrett – 78 to 77 OVR
CB Sam Madison – 87 to 84 OVR
LB Joey Porter – 95 to 93 OVR
Contracts
Darrelle Revis – 6 years
Ty Warren – 5 years
Larry Johnson – 6 years
Aaron Schobel – 7 years
Seneca Wallace – 4 years
Weapons
Adrian Peterson – Becomes Elusive Back
DeAngelo Hall – Loses Shutdown Corner