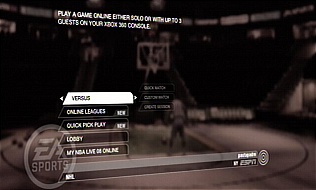 I had the chance to play a handful of NBA Live 08 online games with Shawn from over at 5w-g last night. Here are my thoughts on the online performance, details on some of the options for online play, and the results.
The first thing to address would be overall performance. All three games were practically flawless. There was absolutely no difference between online and offline in terms of lag or frame rate. I don't know if I've ever been able to say that before. Now of course there were only the two of us playing so there was no stress on the servers and it'll have to be monitored come release. However it is certainly very encouraging.
Options wise I noted in a previous posting that there are few different modes. Versus is the traditional head to head game and you can have up to three guests on your console. Quick Pick Play allows you to choose any 10 players for your team and can be ranked or unranked. The Online Leagues are identical as far as I can tell to the ones found in NHL 08. There is also the addition of the EA Locker for sharing roster files and created scenarios. You can use all teams including the All-Stars, Rookies, Sophomores, Team Adidas, and FIBA in both ranked and unranked.
Ranked games are locked in with five minute quarters on All-Star difficulty. We played one ranked and the other two unranked with the same setup.
Again it seems you can not challenge someone on your friends list to a ranked game which is unfortunate. You have to go into a lobby room to do that. In the lobby you can challenge to the normal ranked games but not to the Quick Pick Play games. So any Quick Pick Play games you wish to play against friends will have to be unranked.
Continue on for more details, notes on the games, and a recap of general thoughts.
Fatigue is not a factor as we never saw it drain despite being turned "on". Some people may find that to be a problem, but it isn't a surprise because the majority of players probably don't want to worry too much about substituting during online games.
The momentum and rebounding seemed to vary wildly from game to game, and the only thing we were able to correlate them with was home court advantage. We weren't sure why one team seemed to always be in good position for rebounds and the other wasn't (even if choosing to specifically crash the boards). Can't say that it has to do with home court for certain, but as you'll hear in the recaps below there was a large differential (and as Shawn pointed out Denver was the best rebounding team in the NBA last year). It could've just been coincidence I suppose.
The statistics in general came out pretty realistic (outside of the final score due to the 5 minute quarters). Shot percentages specifically look good, falling in the 40-50% range. We were generally taking good shots, being selective, so if someone just starts jacking up contested shots I'd expect them to have trouble. Once again we didn't really worry about Hot Spots. Getting open shots vs contested shots is more important than anything else.
We were quite surprised at how great the game seems to play head-to-head. There were several instances where both of us commented on that. I think people will look to tweak the offline experience vs the CPU with sliders, but online as is it was a lot of fun and seemed pretty balanced. I think it just tends to flow better against another user.
Game 1: Seattle Sonics (Pastapadre) 52 @ Denver Nuggets (Shawn) 60 Ranked
We both shot about 45% from the field. The Sonics went 6/15 from 3pt range while the Nuggets went 5/7. The Nuggets jumped out early to a big lead and were feeling comfortable throughout but the Sonics went on a run in the 4th quarter cutting it to four at one point but couldn't get closer than that.
Game 2: Team Adidas (Shawn) 61 @ Golden State Warriors (Pastapadre) 73 Quick Pick Play – unranked
After choosing the teams (essentially just being about the uniforms and home stadium) we picked the starting five and then let it auto-fill the remaining five (since the fatigue doesn't factor in we only concerned ourselves with the starters). The auto-fill gave us very good players and seemed to have a backup for each position. You are allowed to have any of the players on both teams as it isn't like a draft. It is neat that you can go through players by different categories that they've broken down to the top 25 at each position, or you can search through the team rosters. Makes the selection process go by relatively quick.
This game was naturally higher scoring since we were playing with superstars. Ray Allen had 16 points in the first quarter for me but finished up with only 20. Everything seemed to open up for me but Shawn was getting frustrated with my second chance opportunities, open outside shots, and an inability to stop my drives. Yet on the other end of the court my team was boxing out and getting the boards, in his face constantly, and prevented him from driving to the lane.
Game 3: Denver Nuggets (Shawn) 57 @ Seattle Sonics (Pastapadre) 66 League game – unranked
I set up a league with a max of two players and a one game season. The pressure was on for this game as it all came down to this! League games appear to be automatically unranked. For details on the league setup you can check them out here.
The rebounding discrepancy was very apparent in this game. The Sonics finished with 12 offensive rebounds to the Nuggets two. In comparison the Nuggets only had 15 defensive rebounds. Kurt Thomas had 20 points and 9 rebounds in this game.
Still to come: Trying out the EA Locker for both roster and scenario sharing, more time in with games of all modes to test performance, playing with guests.
Overall: This could be the best online offering from EA to date, although NHL has one up on it with the co-op across multiple consoles. That should be the first thing added in next year as it seems ideal for basketball. We were both pleasantly surprised with how well everything went. The games felt identical to offline which made for a very good experience. Hopefully it is one that continues come release and beyond.