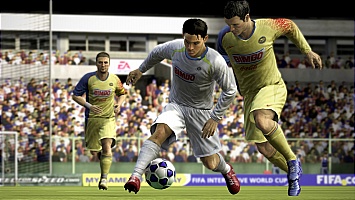 Along with the Online Team Play update that allowed for up to 10 players on their own systems in a single online game, the FIFA 08 team was able to address some other issues at the same time. EA sent out the following detailing the specifics.
Creating and delivering the OTP Update took a huge amount of work on the part of the dev team who really believed they could release the new feature for FIFA 08 even after the launch of the game. During all this hard work they found some time to optimise some other areas of the game after reading feedback from the community. Enclosed is the list of issues we were able to fix in the launch of the 5v5 Online Team Play update.

-Fixed rare Ps3 loading crash and/or infinite load.
-FC Toronto is now referred to correctly as Toronto FC.
-Fixed rare issue where player would lose control of free roam player and/or control free roam player from jumbotron view during online loading.
-Fixed issue where user would be prompted and forced to download squad files every time they attempted to play an online game if they had changed the arena player.
-Reduced CPU free kick ability slightly in lower difficulties.