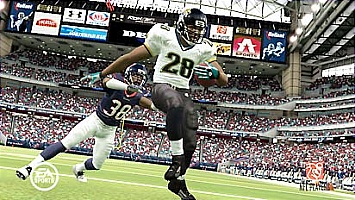 Updating the previous posting regarding the release timing of the PS3 patch for Madden 08, I have received word that the patch has finally cleared certification by Sony and will be released in the morning (8th).
This is the same patch the 360 received late in November and addresses the following issues:

Fumble Fix – Reduced fumble chances in certain situations. This has been tested thoroughly and we feel that people will be happy with a more realistic (and more fun!) number of fumbles. This was priority number 1 for us.
DB Reactions- changes to the way that DBs play man coverage. Defenders in man coverage won't be able to react to passes that they cannot see. This should make it easier to throw against man coverage.
Favre "Moonwalk"- I love the names that you guys come up with for issues such as this one. You can rest assured that you won't see Farve (or any QB) dancing toward the sideline anymore.
Hook Zone Flip Bug- I saw a post on a community forum talking about this bug and it turns out the fix was very minimal risk. You can now flip plays with hook zones without the players leaving their zones.
Franchise – Fixed NCAA import issue where players would turn 26
Franchise – Fixed bug where HOF Unlocked players cannot be released in Franchise.
Franchise – Fixed bug where the FA pool would run out of certain positions
Online Game Reporting- fixed a number of issues where games weren't being reported correctly or people weren't getting the right number of ranking points for a win. This will also make stats more accurate.
EA SPORTS World- Accomplishment '20 consecutive completions' not awarded when completions ends up under 100%