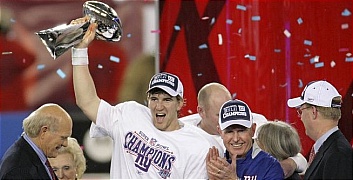 Right around mid-season I wrote how Adrian Peterson had positioned himself to be the leading contender for the cover of Madden 09. Along with him there is a decent sized list of players I could come up with who would also get consideration. A few however may have dropped off the list while another entered it after the Super Bowl today.
Eli Manning, as Super Bowl winner and MVP, becomes a definite possibility. Until the last game of the regular season no one would've given him any shot. But playing well through the playoffs and coming up big on the winning drive late in the Super Bowl propelled him to another level. Even prior to all this happening he had become more recognizable in a marketing sense with several commercial spots. Where brother Peyton has probably surpassed any desire to be on the cover (he makes too much money being in half the commercials out there) Eli is more on the rise and may be able to use that exposure to his advantage.
Patriots players such as Tom Brady, despite winning the MVP and having an absolutely incredible season, are likely not as appealing anymore. I doubt he would've been the guy either way due to a few different factors but it seems even less likely now. While EA has put players from the Super Bowl losing team on the cover the following year, this loss is especially crushing considering the undefeated season being wiped away. That is how players on this Patriots team will be remembered. Seeing him or another Patriots player on the cover would just conjure up memories of that.
I'll be doing a cover candidate analysis in the coming weeks but right now the top names that come to my mind are Adrian Peterson, Eli Manning, Braylon Edwards, and Antonio Cromartie.