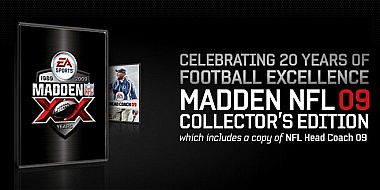 The official website for Madden 09 went live earlier today following the announcement that the 20th Anniversary Collectors Edition would include NFL Head Coach 09. From the main page of the site you can access the press release containing details of the collectors edition along with links to new Head Coach videos and features. It also notes that "the countdown begins 4/5/08". Whether that countdown will lead into the NFL Draft or something else (cover announcement?) isn't immediately clear.
Previously the Head Coach website listed some features of the game. However several new ones have been added and the entire list can be found here. It's a pretty intensive list that would be too difficult to for me to recap so check it out in its entirety there.
One interesting thing of note is that with the new play creator and ability to export them to Madden they've also added Gamernet which will allow for you to upload created plays where they'll available for anyone to rate, view and download for their own use.
There are also two new videos for Head Coach. One is a general overview of the game while the other focuses on the play creator. You can check those out in HD by visiting the media section of the Head Coach website.