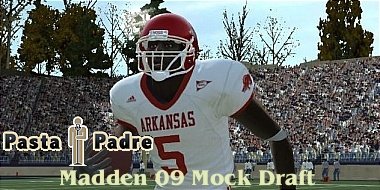 There are certain types of players that are more valuable than others in Madden. There are also specific rookies or positions which would offer the most immediate help to a team in the game. I'll be detailing some of those considerations throughout the Pastapadre Madden 09 Mock Draft.
Leading up to the actual NFL Draft on April 26th-27th I'll be posting selections for each team in the first round on a semi-regular basis that represent the players who would be chosen to most help the team immediately and over the course of the season in the game.
To start it all off we have the first and second selections in the Madden 09 Mock Draft.
#1 Miami Dolphins – Jake Long – OT – Michigan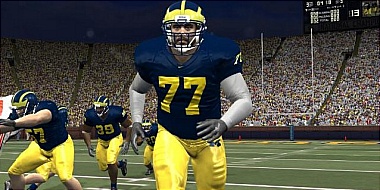 In most cases the highest rated rookie would seem the natural choice to go at the top. However the Dolphins don't have as much need for Darren McFadden as they do for an offensive tackle. Ronnie Brown along with Ricky Williams makes up a solid backfield. A QB at the top of the draft for Madden would be tough to justify considering they generally get relatively lower ratings than other positions and have less playing time during the year to earn ratings boosts.
The Dolphins could use Jake Long immediately and he should come in with around an 84 rating. Last year the #3 pick Joe Thomas began as an 83. By the end of the year he was an 87 and probably should have been higher than that. So Jake Long could be solid right away and have the opportunity to improve in ratings as the year went along.
#2 St. Louis Rams – Chris Long – DE – Virginia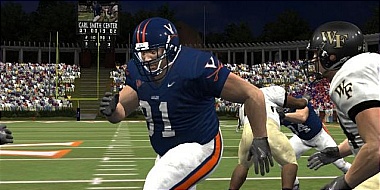 Again McFadden gets passed on as the Rams already have a great RB in Steven Jackson. The team was hit hard with injuries last year and otherwise wouldn't have been nearly as bad. Offensive tackle would be a consideration as Orlando Pace has been injured a lot lately but Jake Long is already gone. Linebacker is an area of need but none would really be justified taking this high.
So that opens it up for Chris Long who should provide the Rams with some help pressuring the QB and decent run support from the position. Gaines Adams was #4 last year and began with an 84 rating and Chris Long would likely be rated around an 85. DE is a position that is reliable coming out of the draft for Madden.
Do you agree with the first two selections? Coming in the next few days look for picks 3-5! You can track all picks in the Mock Draft at the tag page.