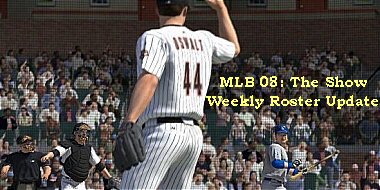 The weekly roster update (4/28) for MLB 08: The Show is out and contains 134 player movements. The highlights of the update are listed below.
RP David Weathers moved from Reds Relief to Reds Minors.
RP Josh Fogg moved from Reds Starting to Reds Relief.
RP Keiichi Yabu moved from Giants Minors to Giants Relief.
SS Adam Everett moved from Twins Position to Twins Minors.
C Paul LoDuca moved from Nationals Position to Nationals Minors.
C Johnny Estrada moved from Nationals Bench to Nationals Position.
2B Kaz Matsui moved from Astros Minors to Astros Position.
3B Mark Loretta moved from Astros Position to Astros Bench.
SP RA Dickey moved from Mariners Starting to Mariners Minors.
CP JJ Putz moved from Mariners Minors to Mariners Closer.
DH Gabe Gross moved from Brewers Position to Rays Position.
CF Tony Gwynn Jr moved from Brewers Minors to Brewers Position.
SS Cesar Izturis moved from Cardinals Position to Cardinals Bench.
C Adam Melhuse moved from Rangers Bench to Rangers Minors.
C Jarrod Saltalamacchia moved from Rangers Minors to Rangers Bench.
SCEA has also gone ahead and listed the most significant aspects of the patch that was recently released.
Resolutions
Walk-off homerun scoring issue
Two-player bullpen issue
Random stat issues
Some stadium oriented collision issues

Enhancements
Minimized gameplay exploits for online play
More / improved player-specific stances and animations.
Minor tuning adjustment to hitting on higher difficulties
Minor tuning adjustment to pitching from the pitcher's view or with pitch cursor off