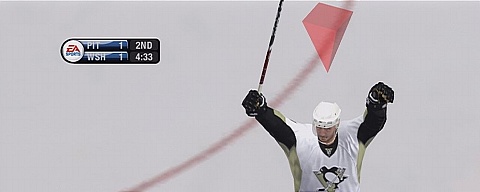 NHL 09 producer David Littman has posted a new blog detailing the upcoming patch for the game which is expected to go live for the 360 and PS3 within the next week or two. Continue on to view the full details of what to expect from the patch.
First and foremost we have fixed the "dirty disc" message issue that some people are seeing on the X360. For the PS3, we have fixed the issue where there are sometimes white flashes or flickers during gameplay.So, if you have seen one of the above, you will be happy to know they are fixed with the patch.
For most people though…the important fixes are in gameplay. We have listened to all of you, and we have played the game ourselves every day. While we couldn't make every fix that you asked for because of time constraints, we did fix most of the big issues, and also improved gameplay to be more authentic.
The jersey on the EASHL side select screen is more visible than the team logo. This will make it easier for people to see when jersey colors clash
Deking controls normal when shooting downscreen with "Always Up" controls
Checking has been tuned so you will see less big hits from guys that aren't traditionally known for hitting
Increased the height of dump ins, for a better dump and chase game.
No more goals from flip dumps
Better CPU AI logic near offensive blueline so they don't go off-sides as much
CPU goalie will not drag the puck back toward himself in a shootout
We have fixed the goals from outside shots that people are scoring. We have reduced shot accuracy when on the rush and when turning quickly, and from far out. You will now have to be more conservative when shooting on the rush. If you aim all the way to the left or right, your shot will go wide a lot more. Try aiming more towards the middle to hit the net from outside. This fixes the cross goal where you shoot back the other way, and the goal that goes in with the "curve" animation, and a few others. There's a reason NHL players don't shoot from outside on the rush very often. Dumping or trying to set up is a better play unless you have an odd-man situation.
We reduced the time it took to get control of the goalie by 1/3.
When line changes are set to auto, and a user changes lines/defense manually between whistles, the line/defensive pair you asked for will come out (or stay out).
If you have line changes off in Be a Pro, line change player chatter will be turned off.
When using a defenseman in BAP, BAP player won't get stuck on the bench and will be able to call for change
The EASHL will now go to continuous 5v5 overtime until one team scores. This way nobody has to sit out, and you get to decide who wins (this is now just like the NHL Play-offs)
The proper own-goal cut scene will be shown where the player who scored on himself is upset.
All cut scenes should now show players sitting in their respective team's bench.
Increase AI team aggressiveness and the likelihood of them getting called for a penalty on an infraction.
If Vision Control is pressed, you do not throw a hit when in front of the attacking net. This helps with rebound shots.
Increase the likelihood of a penalty if the stick hits the body during a stick lift.
Reduce the accuracy of shots for penalty shots and shootouts. Aiming for just inside the post is a lot tougher now
Along with these changes we are still working on the server side of things to make sure that the EASHL and online play is always improving. Keep checking our website for more information on the EASHL play-offs.