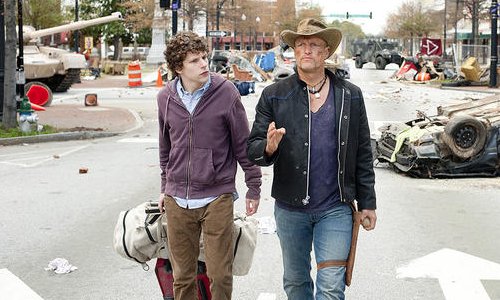 Zombieland originally began as a television series pitch but all the networks turned it down. While there is no way to know if it would've succeeded on TV, the concept evolved into an ideal standalone movie and potentially a franchise. Vampires have seen a resurgence as of late but zombies have always been a popular. Zombieland takes the concept seen in many horror films but with a heavy comedic slant.
The cast of humans is primarily limited to the four main characters played by Woody Harrelson, Jesse Eisenberg, Emma Stone, and Abigail Breslin. In a world that has been overrun by zombies they don't even use their real names to avoid getting attached to others. Instead they're known by a geographical location relating to their life.
The movie opens with Eisenberg who plays "Columbus" as he's explaining his set of rules that he lives by to ensure his survival. Throughout the movie the rules are played on and even displayed on screen which was an amusing touch.
The open credit sequence was awesome, with extreme slow motion scenes of people and the impending doom of zombies closing in on them. Visually it was a really well done and not like anything I had seen before. At the same time the situations of each one were quite funny and it was a good way to get accustomed to the overall theme that would be carried throughout the movie.
I generally enjoy the style of comedy that is tongue-in-cheek, where the characters keep acting serious through ridiculous situations and events. That is definitely what is found in Zombieland. The characters are jaded, and rightfully so. As far as they know they may be the only humans left on earth. Everyone they know is dead, and as such there is entertainment to be had and frustration to be taken out on by eliminating some zombies.
While many of the zombie kills were gruesome I was slightly let down in that they were relatively straight forward and not many were all that unique. Especially when given the setting of the amusement park for a portion of the movie and the promise of some wild kill scenarios because of that, it just didn't live up to expectations in that regard. Still it was definitely entertaining to see the zombies getting put down in any manner.
For a movie without a great deal of CGI they did a good job with the realistic look of the kills. I particularly liked the splatting effect and the slow motion used at times was a neat touch. The movie in general felt grounded because it wasn't dominated by CGI and centered on the human characters and not so much what was happening elsewhere in the world.
The highlight of the movie for many will be the surprise cameo that is made. I won't give it away, as the crowd at the theater was surprised and really enjoyed it. I was just bothered by the predictability and lack of judgment shown which was particularly out of character given what everyone had been through and had been dealing with survival.
Zombieland is definitely recommended and worth seeing in the theater as the atmosphere only adds to the experience. I don't believe it to be a classic, but it is definitely a fun ride and I fully expect a sequel to come.
Rating: