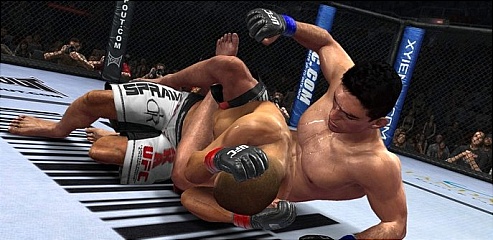 Initial details on UFC Undisputed 2010 were dispersed through various media outlets, announcing the cover had gone to Brock Lesnar and leading off with some of the main new features and improvements. All the info came in the way of previews or interviews which are not always the easiest to digest.
THQ has released to pastapadre.com the full features list which is laid out in more concise form. Continue on to check out what they have announced with more specifics on many of the features still to come leading up to the game's May 25th release.
UFC FIGHTERS AND PERSONALITIES – Navigate an unparalleled roster of more than 100 prolific UFC fighters, each fully rendered to convey a photorealistic appearance. Prominent UFC personalities, including the commentary team of Joe Rogan and Mike Goldberg, veteran voice of the Octagon Bruce Buffer, Octagon Girls, referees, trainers and more return to showcase an authentic and memorable UFC videogame experience.
ENHANCED COMBAT – Step into the Octagon with improved combat. A new Sway System with full upper body and head movement allows for the dodging of attacks, while on the ground, a new Posture System delivers strong, fight-ending strikes from every position. Manage Octagon control with new strikes, submissions, transitions and cage positions, as well as experience added realism with the introduction of Southpaw stance.
FIGHTER CUSTOMIZATION – Enjoy customizable freedom with created fighters by combining move sets from numerous MMA disciplines. Choose from an array of moves from all available disciplines, including newly added Sambo, Karate and Greco-Roman Wrestling, to become a true mixed martial artist.
EXPANSIVE ONLINE PLAY – Encourage camaraderie by forming fight camps and leagues to participate in ranking and champion tracking systems. Join forces, train like real-life UFC fighters and go online to compete against other camps in the virtual UFC world.
CAREER MODE – An intuitive "Game Is Watching You" system tracks every action and uses this information to dictate in-game commentary, opponent intelligence and overall career progression. On the quest to reach the UFC Hall of Fame, enhance the Career Mode experience through online co-op sparring sessions with respective fight camps and form unique personalities for created fighters to increase their cred, popularity and sponsorships based on interactions during weigh-ins and interviews.
TITLE AND TITLE DEFENSE MODES – Fight through one of UFC's five official weight classes to earn and defend a championship belt in Title Mode. In Title Defense Mode, a fighter's condition remains persistent, with milestone challenges built in along the way.
TOURNAMENT MODE – Explore up to 16-player individual and team tournaments within one system. Utilize UFC fighters or created fighters and select from arcade-style play with repeated fighter appearances or experience simulation play with fighter representation limited to one appearance.