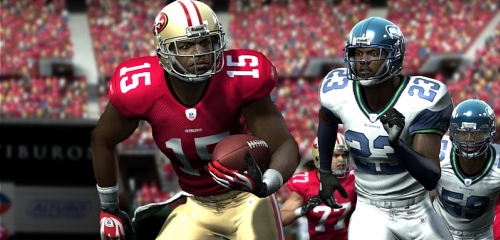 With the overwhelming negative response to the Strategy Pad in Madden 11 it was only a matter of time before EA Sports would officially respond. That came even a little quicker than expected with a new blog that has just been released that goes over the reasoning behind the change while acknowledging the uproar and communicating the ultimate solution. The old style of pre-snap adjustments will be patched into the game though it will probably be September by the time it arrives.
We do believe that this change is for the better, and that in the long run it delivers a much more positive experience to the gamers that are willing to try and adapt. Due to the overwhelming feedback however, we will be providing the old-style button commands as an option that can be enabled. We are currently targeting this change to be released around the first week of the NFL season as it will take some time to get through third party approvals.
Patching in the old controls while leaving the Strategy Pad as the default made the most logical sense of anything that could be done. If EA believes that the Strategy Pad is more welcoming to inexperienced gamers and solves some issues then great, however having the old way of doing things as an option is only fair to those who have bought the game year after year. They have made other changes in the game but have continued to make them optional, however in this case for some reason overlooked the potential reaction that would come from removing it completely.
The only question now is whether the fix will come too late. EA was much more responsive with this issue collecting feedback immediately and implementing a plan to resolve it within days as compared to what went down with Fight Night Round 4. In that case there was consumer uproar over the removal of the button control configuration that was ignored by EA leading to them literally telling people to get over it or move on. Gamers actually did move on as FNR4 took a big hit in sales, only for the button controls to be patched a few months after release. Will there be an impact in being stuck with the Strategy Pad for a month or however long it takes? That will be something to monitor. As always leave your thoughts on the developments in the comments!