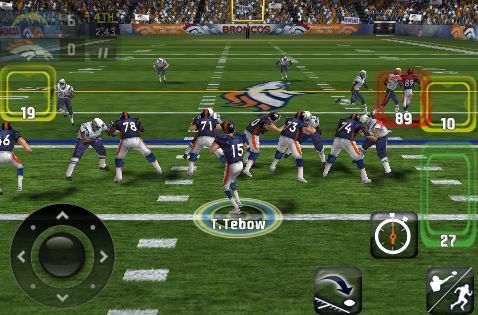 Today EA Sports announced that the iPhone and iPad versions of Madden 11 will be available next Tuesday, the very same day that the console versions are set to arrive. Last year's version of Madden on the iPhone was really well received so there is reason to be encouraged about this one despite NCAA Football's recent disappointing mobile offering.
Madden 11 for the iPhone, iPhone 4, iPod Touch, and iPad will feature the same "GameFlow" play calling that resides in the console versions though presumably without the ability to build a "GamePlan". Expanded options for hot routes will allow for the drawing of routes on the screen pre-snap, and though not detailed yet there will be improvements to controls with a focus on making defense more fun to play. As with NCAA there will be a special version released for the iPhone 4 that takes advantage of its spectacular display with improved graphics.
No price has been communicated but last year Madden sold for $8 on launch day and $10 after. Expect similar though with a premium of $1-2 for the enhanced iPhone 4 version.