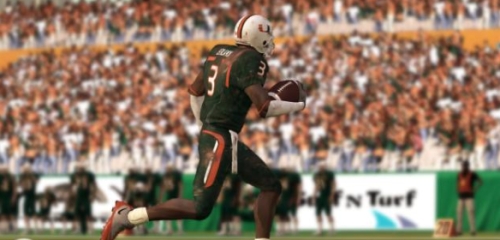 EA Sports has announced that a third patch for NCAA Football 11 is scheduled to be released on Tuesday September 7th. Along with the patch will be yet another "tuner" update. The most pressing issue with the game since the last patch has been the pump fake exploit and that will be taken care of here. Continue on to check out the full details of both the patch and the tuning pack and leave your thoughts in the comments!
Patch 3
The pump fake exploit was resolved. The entire defense will no longer rush the QB after a pump fake.
Resolved an issue with setting SS/ FS to QB Spy and then blitzing, virtually unblocked.
Increased the Overall rating for incoming freshman. This resulted in one and two star freshman coming in at a higher overall rating.
In Season Progression is back! Players once again have the ability to get a slight boost to their ratings during the season.
There was an issue with Hawaii's home schedule causing conflicts with particular teams. This has been resolved. In particular, teams in the Pac 10 and the WAC will now have the correct number of conference games.
Resolved an issue with the Rush Defense slider where they were only impacting defensive line special moves. They have been adjusted to also impact win/loss chances for blocking.
Live Tuning Pack 3
Kick Power/Kick Accuracy progression for Kickers and Punters was adjusted to be in line with the new incoming freshmen. Kickers and punters will now progress in line with other players, but will start with a higher average overall due to the improved recruit ratings in the patch.
Increased Awareness progression for all positions.
Increased progression slightly for Elusiveness, Spin Move, and Juke Move for Wide Receivers.
Increased progression of the Tackle rating for Corner Backs to be in line with WR skill ratings (Juke, Spin, and Elusiveness).
Reduced the frequency of defenders successfully jumping the snap. Also adjusted how frequently they would jump early when the offense performed a fake snap.
Tuned Man Coverage so defenders will not jump in front of routes so early. They will still jump the route, but not as early, or frequently, as before.
Adjusted in season progression to be in line with higher rated incoming freshmen.
Tuned Incoming freshman to better match the spread on the default rosters.
Tuned team prestige progression to be in line with the changes to incoming freshmen.