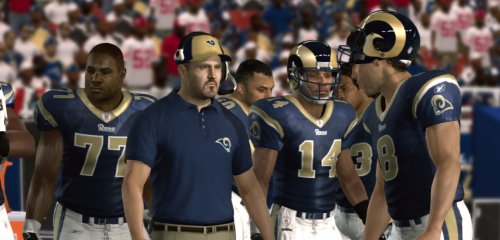 EA Sports has released information on the upcoming patch for Madden 11. It will include uniform additions, a fix for the disconnects happening online, will address some exploits, and brings several updates to Madden Ultimate Team including new features such as the ability to play friends in the mode. Glaringly absent however, in the pushing of MUT, is the lack of any gameplay improvements.
The patch is expected to arrive by the first week in November. Continue on to check out the full details of what the upcoming patch will provide and leave thoughts in the comments!
Ultimate Team 'Rivals Pack'
The biggest delivery for this update is a set of features built around Madden Ultimate Team, and this signifies a few months of development work as we couldn't squeeze these features in by the ship date. The "Rivals Pack" delivers three new features for Ultimate Team, allowing you to make new rivals in Tournaments, face off against old rivals in Play vs. Friends, and renew some rivalries with Refer a Friend.
New Feature #1: Tournaments
You guys have asked for Tournaments in Ultimate Team for a while now, and we're happy to say that they will be available in the next title update. Here are some details about this brand new feature:
1. Each tournament has entrance criteria which can range from specific players to minimum team skill or chemistry.
2. Once you enter the tournament, you'll be matched up against another tournament player and battle it out. The owner who wins the game will move on to the next round while the loser has to start the tournament over.
3. You win coins every time you advance and if you advance to the last round and win, you'll earn even more coins and you might even win a rare player.
4. Tournaments, like Collections, are dynamic and new tournaments can (and will) be added throughout the season.
5. We're also planning on having special promotional tournaments where we release an insert for the weekend and those that find that insert can enter a special tournament.
New Feature #2: Play With Friends
Another feature the community has asked for is the ability to play against your friends in Ultimate Team, and that will finally be available in Title Update #4. You can challenge your friends anytime they are online and play a game of MUT.
New Feature #3: Refer a Friend
One of our favorite new features is Refer a Friend. If you have buddies that play Madden, but they haven't joined Ultimate Team, you can earn coins for getting them to join up. A brand new screen has been added that allows you to keep track of your invites and your rewards from the friends that have accepted the referral.
Uniform Updates
Here's a list of uniform updates that will be rolled out when Title Update #4 releases:
• Added alternate tops for the 3 Vikings jerseys featuring the 50th anniversary patch being worn this season.
• Added the current Redskins Home and Away uniforms. In addition the socks issues are fixed.
• Added the current Chargers powder blue uniform.
• Added a uniform top for the Saints including the Super Bowl Champions patch as seen in their home opener.
Content Updates
Here's a list of some of the other changes we've made to Madden NFL 11 that will be rolled out when Title Update #4 releases:
• Fixed a couple of random Madden Moments stability issues.
• Fixed the user's ability to view play art manually if the opponent on defense holds LT/L2 pre-snap.
• Fixed an exploit where the user could audible when coming out in the Bronco Heavy formation with a HB or WR at QB.
• Fixed an exploit where after pressing the square/X button on defense a user is able to hold down on the L-stick which allows the defender to release off the LOS and go after the QB as soon as the ball is hiked.
• Fixed a hanging issue with onside kicks in Madden Moments Live and offline Madden Moments.
• Fixed an issue causing a high percentage of disconnects in Online Franchise, Madden Ultimate Team, and other online head-to-head games