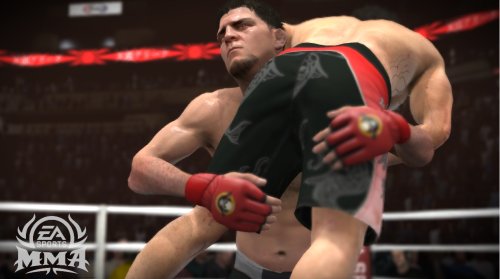 Just one week after the release of EA Sports MMA there are analysts predicting that the company will cease making an MMA game going forward. Sales are reportedly soft and with THQ locking up the UFC license through 2018 the thought is being perpetuated that there is no room to grow and pushing forward would prove futile. That really isn't the case however and EA is not likely to abandon a growing sport when they have now established themselves as players in the market even as that comes from an underdog role.
Keep in mind these are the same analysts who just recently discussed poor sales coming in for Madden 11 only to have the official sales numbers release and the game show a 12% year over year increase. Basically take anything an analyst says with a grain of salt because they are not tied into the goings on of the sports gaming world and may not be even using official data. They are just looking at numbers and not taking into consideration the context of them.
I noted immediately on Twitter, and then in my online impressions, that EA Sports MMA sales were likely not going well as evidence by a lack of online gamers. That is not a huge surprise. To casual fans of the sport the UFC is MMA and this game was pegged was a tough sell from the first day it was announced even with Strikeforce branding.
Regardless EA went into this project with full knowledge of the situation and surely didn't expect booming sales. Of course sales matters but they may very well be in line with their expectations. What they wanted to do was establish the franchise with a quality effort and build on that. They appear to have achieved at least that much and are working on a sequel to come in 2012.
The biggest investment has already been put into the series so continuing it is a reasonable business decision. Though not having the UFC license means a tougher time getting sales it also means there is no huge licensing cost involved and no pressure from the powerful organization.
I do think EA made in error in the release date. This is one of the most competitive times of the year for any game to hit the market. Even just taking into account the sports titles there are eight major releases between mid-September and mid-November. I had discussed the issue as one of the concerns along the way. Sliding in yet another release meant not only tough purchase decisions for consumers but EA Sports competing against themselves.
There is little doubt that EA Sports will continue with games based on the blossoming sport that is MMA. They are in it for the long haul with the potential to capitalize as awareness increases and word of mouth spreads. The good news for consumers is that in doing so they are putting pressure on THQ to create better UFC offerings and as an underdog they must provide quality games to gain respect and purchase consideration.