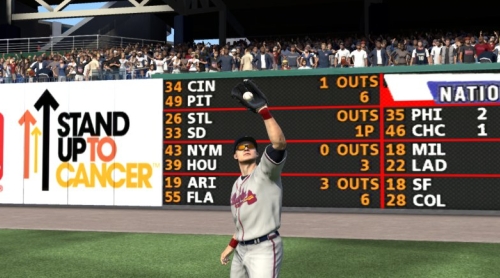 Earlier today SCEA released the first patch for MLB 11: The Show intended to fix issues that were discovered with the game post-release. The two week turnaround time is right about the same as last year, as Sony has the benefit of pushing their own game through the patch approval process ahead of others.
Unfortunately the patch does not address the free agency problem a few years into Franchise mode or attempt to improve online play performance. Another more comprehensive one is in the works that will hopefully do so but the anticipated wait on that would seem to be more lengthy. Continue on for the full details on this first patch!
•"Jackson" available in last name audio database for created players
•Collision issues…ARZ and SF… fixed where the ball would roll into and out of the stadium
•Fixed the issue in Manage only Mode….you are locked out from moving your controller when accessing the pinch hit…defensive sub
•The double switch screen(after pinch hitting for the pitcher in the bullpen screen…..it works if you have your pitcher on the mound) also won't let you move the controller OR even hit X to keep your position player in the game.
•Fixed the bug where you couldn't practice swing if it was going to be a pitchouts..
•Fixed the stutter issue on the catcher throwback
•Fixed franchise bug where team records show 0's on initial team select screen
•Generated players in season modes now have a variety of generic stances, instead of one. Use subset of custom batting stances to randomly assign the generated players
•Fixed online post game lock, having to do with controller assignment when your opponent goes into the Quick Menu>Bullpen