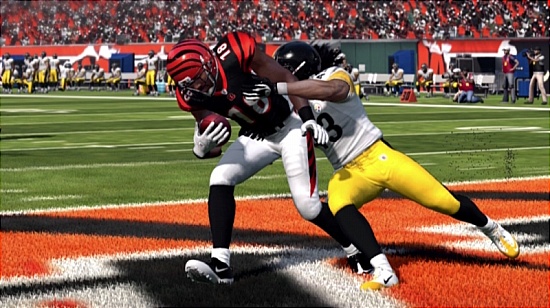 EA Sports has confirmed to me via Twitter that Madden NFL 12 will be available through the "Season Ticket" (for more on that check out my analysis on the subscription plan) tomorrow for the Xbox 360 at 10am ET/6am PT and the PS3 at approximately 6pm ET/3pm PT. The game will also be immediately playable after the download completes which is likely to take several hours (the file size is 4.8 GB).
The digital copy will expire at 6am ET/3am PT on Tuesday morning but all saved files and achievements will transfer to retail copies. The only mode unavailable with the digital download is Madden Ultimate Team. All other modes including online play are accessible. (Update: And a brand new roster update has *just* hit!)
Tomorrow morning at 9am ET/6am PT I will begin posting my extensive impressions and media of Madden NFL 12. General impressions, Franchise impressions, Superstar impressions, gameplay videos, and more! To put things into perspective on how big these write-ups are the Franchise article alone spans over 3200 words and 76 images. Also remember you can help support the site by purchasing your copy of Madden NFL 12 through Amazon where they are offering the best deal – a $20 promotional credit to use on a future purchase and release day shipping! Find the pre-order pages here: 360 – PS3 – CE 360 – CE PS3. I'm wearing myself out preparing coverage for the morning so see you then!