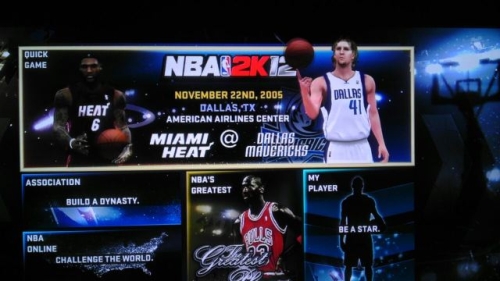 Last year NBA 2K11 made a huge splash through social media channels that was largely driven by celebrities – combined with the mainstream allure of Michael Jordan's involvement.
With still over a month until release it appears that NBA 2K12 has "gone gold" and retail copies are already being distributed to those same high profile personalities. The Game, well known for his interest in sports titles as well as having others play games constantly under his gamertag, is the first to tweet about having received 2K12. He did so by challenging others like fellow rappers Snoop Dogg and Bow Wow who are surely on the list that will be getting the game very early. Combined those three alone have seven million Twitter followers.
Unfortunately the picture above of the main menu that The Game tweeted doesn't give away any unannounced features but it does show off the re-designed front end. From the achievements it has become known that an 'Online Association' and enhancements such as contracts to 'My Player' mode are on the way.